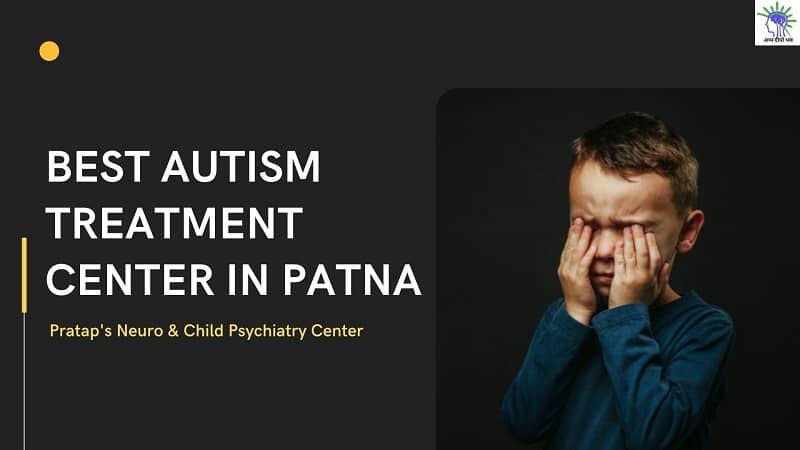 15 Mar

Pratap's Neuro & Child Psychiatry Center – Autism Treatment Center in Patna

Are you also grappling with your child's ASD, and seeking the best autism treatment center Patna?

Here, in this blog, we will give all the details related to the disorder and guide you to the best autism treatment in Patna.

Before heading to the treatment, it's necessary to dissect the disorder, its causes and, symptoms.

Let's apprehend about autism…
What is Autism? Autism Meaning
Autism spectrum disorder (ASD) is a serious and complex neurodevelopmental disorder.
These disorders are embodied by difficulties in social interaction, verbal and nonverbal communication.
Also, it leads to restrictive, repetitive and, stereotype behaviors.
Moreover, it mainly emerges between children of age 1 to 3 years.
However, seeing your child like this may lead you towards agony.
Also, you may be looking for the best treatment so we would recommend you Dr. Vivek Pratap the best neuropsychiatrist in Patna.
As he has helped many children to recover from these ticklish disorders.
Moving on, we will talk about him later first let's acknowledge the severe symptoms and causes of autism.
Autism Causes & Symptoms
According to research, there is not an exact or single cause of autism.
Hence, some of the surmised causes are…
Difficulty during birth.
Any family member having autism
Any viral infections
Genetic disorder or
Any kind of imbalance in metabolism
Talking about causes let's understand its symptoms…
The symptoms occur mainly in the age of 12 to 24 months…Some of the symptoms include…
Trouble in verbal & non-verbal communication.
Struggle in developing a relationship with the family.
Repetitive movements or behavior.
Restricted behavior or body language.
Hence, there are also many autism School in Patna which aids in recovering from these repetitive symptoms.
However, encountering your child's or any family member's disorder, you must be hindering with the question what is the best medicine for autism?
Keep reading below to get through the detailed medication…
What is the Best Medicine for Autism?
Medicine is not a proven cure for autism, it may help with difficulties in behavior.
The other effective method beside autism medication is having proper bone-building nutrition.
As it is found that children with autism have thinner bones than a normal child.
Taking medications without consulting a doctor is not a good act as you should always consult a good doctor.
 NOTE: We have also answered some related questions on Quora check it out here best psychiatrist in Patna Quora.
Autism Doctor in Patna
If you are from Patna or residing anywhere in Bihar you should always go for the best doctors near you.
There is too many autism treatment Center claiming to treat the disorder.
However, we would advise you to go for Dr. Vivek Pratap one of the proven best doctors in Patna.
He has treated too many patients with ease without doing any damage.
We will have deep knowledge about him later, first let's comprehend the treatment for autism spectrum disorder.
Specialized Treatment for Autism Spectrum Disorder
Treatments help an autistic patient to maximize the ability to function enhancing development and learning.
Here are some of the best treatment for autism in the world.
Communication Therapies
As we know the autistic child suffers the abnormal communication.
So, behavior and communication therapies help them reducing behavioral problems and teaching new skills.
Family Counselling
The counselling helps the parents to understand their children and interact with them.
It promotes social interaction in the child aiding them to cope up with these problems.
Educational Guidance
A deep educational program is conducted by some specialists to increase awareness.
These therapies include activities like social skills, communication skills, and improvement in behavior.
Hence, there are many more therapies like speech therapy, daily living, and physical therapies.
Now you know about the treatments but where to get these treatments from.
We will tell you below…
Dr. Vivek Pratap Singh – The Best Psychiatrist in Patna
Autism spectrum disorder needs quick treatment as it goes severe with time.
For the best treatment, you should always consult Dr. Vivek Pratap the best psychiatrist in Patna.
He also runs his own organization Pratap's Neuro & Child Psychiatry Center.
Reasons Why Should Go for Him
Expertise with 9 years
Friendly
Young and enthusiastic
Budget-friendly fee
Great at communication
He makes utmost efforts while treating the patients and also provides the best autism treatment in India.
Also, his treatments are inexpensive and cost-effective with exclusive recovery.
Final Thought
So, in this blog we gave you all the important details about autism, also we help you in finding the best Autism Treatment Center Patna.
Moreover, we also recommended you the best doctor for your child's agony.
Now we are summing up here hope you got all the precised information.
However, if you still have any issues tell us in the comment section.