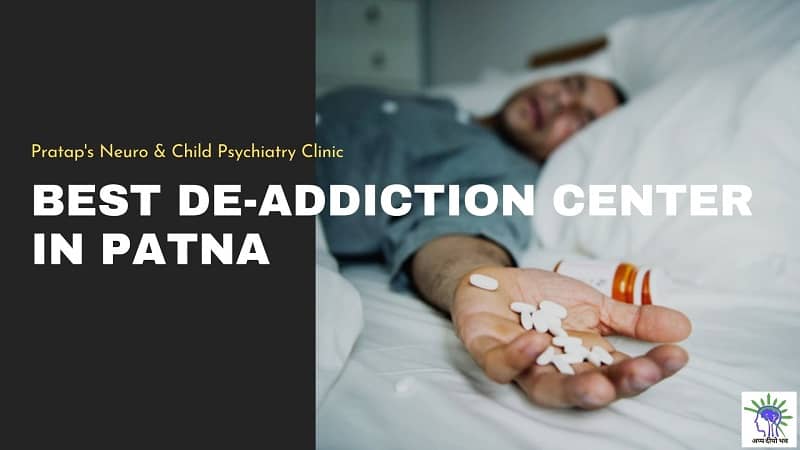 10 Dec

Pratap's Neuro & Child Psychiatry Clinic – Best Deaddiction Center in Patna

The abuse of intoxicants like Alcohol, cocaine, opium, cannabis, cigarettes etc. leads to the addiction of these drugs. The addiction can lead to many complications on both physical and mental level. Long- term drug abuse can result in heart or lung disease, cancer, mental illness, HIV/AIDS, hepatitis, and others

Talking on mental level, it has vast implications that are listed below:
Sleeping Disorder
Eating Disorder
Mood Swings
Emotional Instability
Lack of decision – making capability and impulsivity.
Choosing to attend rehabilitation centre and deaddiction centre is the most concrete step towards freedom.
If you or your friend, kin has fallen prey to drug abuse then you might need to go through Best Rehabilitation Center in Patna and find the best Deaddiction Center in Patna.
Let us see,
How Rehabilitation Centre can Help you Overcome the Drug Addiction?
Rehabilitation centers and deaddiction centre provide the safest and the most comfortable way to achieve sobriety and battle addiction. Every individual case is studied, and the treatments proceed thereon accordingly.
The generalities that are practiced in these centres are as follows:
Admissions
The patient or his loved one can contact the rehabilitation centres nearby. This is the very first step towards transforming your or your loved one's life.
If you are resident of Bihar or somewhere in North India and want to attain freedom from your drug addiction or want good of your love ones who are suffering; then contact daycare deaddiction centre in Patna.
Intake
It is at this step where a patient is taken into the facility. Thereafter, he/she is thoroughly checked to make sure that the patient does not bring any forbidden items.
Assessments
Medical and Clinical staff question the patient and assess the treatment needs accordingly. This is one of the most vital steps of treatment.
Detox
Detox is the process by which body is purged of harmful substances for patient can start treatment in a sober state. Medically-supervised detox is preferred over self- detox.
Impatient Care
In this process, the patient resides in facility and receives a number of treatment, therapies that includes meditation, art-therapy, self-love therapy, music therapy etc. These aim at providing sobriety and provide them with necessary skills, knowledge to live the further life addiction-free.
Release
Medical facility releases the patient when they are confident that they can be released. They provide final assessments and guidance to patients for after care.
After Care
Patient in aftercare participates in ongoing treatments such as therapy or group treatments periodically to maintain their sobriety.
If you or your kin or friend is facing addiction issue and mental instability in Patna or else here around it, you should refer to Dr Vivek Pratap Singh- who provides the best addiction treatment at his drug & mental health rehabilitation centre in Patna.
Dr. Vivek Pratap Singh hails from WHO listed institution B P Koirala Institute of Health Sciences. Thereafter, he received an MD in Psychiatry and with 8 years of overall experience; he currently practises in PMCH.
He also provides neuropsychiatric treatment at his clinic in Kankarbagh Patna with a Deaddiction center in Patna and he is also listed as the best neuropsychiatrist in Patna. The doctor brings with him a lot of expertise with him as he has also been an ex-resident at the esteemed AIIMS, Patna.
So, you must consult Dr. Vivek Pratap Singh's Pratap's Neuro & Child Psychiatry Clinic which is facilitated with the best Mental and Drug De Addiction Center in Patna.