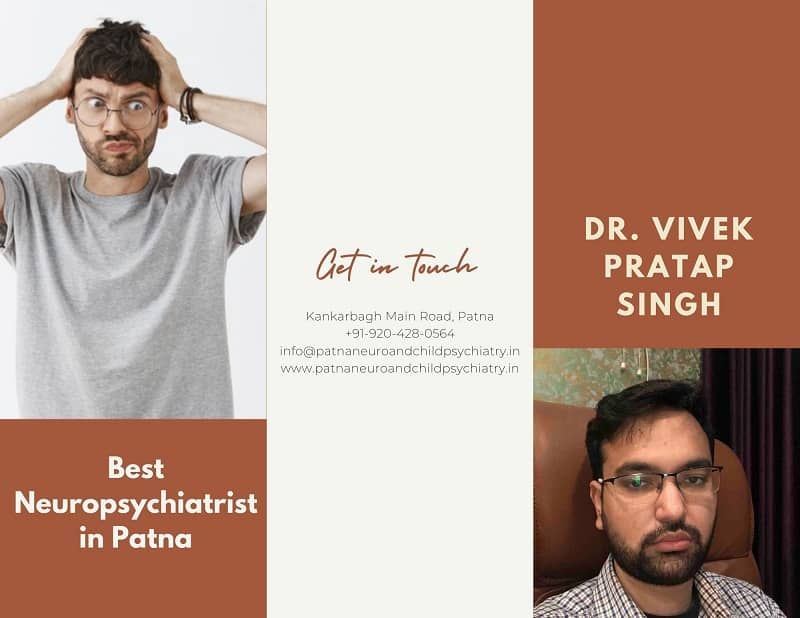 24 Nov

Neuropsychiatrist in Patna [Best Psychiatrist in Kankarbagh, Patna]

If you are looking for a trusted neuropsychiatrist in Patna for the treatment of mental disorders then you are at the perfect spot.

We recommend Dr. Vivek Pratap Singh as he is the most popular and the best neuropsychiatrist in Patna.

To learn why and to gain more insight into this subject, have a look at this brief post.
What is Neuropsychiatry?
Mental health disorders that are specifically attributed to the illnesses of the nervous system are studied under the area of medicine known as neuropsychiatry. This branch is growing as a sub-specialty of psychiatry and is associated with the disciplines of neuropsychology and behavioral neurology.
Who is Neuropsychiatrist? 
A neuropsychiatrist is a special type of psychiatrist who studies both psychiatric and neurological disorders. He/she addresses the mental issues that result from the diseases of the nervous system.
What are Neuropsychiatric Illnesses?
Neuropsychiatric illnesses are the disorders in your cerebral system that can cause psychiatric symptoms. These symptoms can be persistent, relapsing, remitting, or occur for a single time.
It includes diseases like autism, schizophrenia, depression, Alzheimer's disease, Parkinson's disease, and so on. They negatively impact overall well-being and also cause working, learning, and emotional impairment.
Such serious and complex disorders should be assessed by a mental health professional like Dr. Vivek Pratap Singh. He is the best dynamic psychiatrist or neuropsychiatrist in Patna with an enviable reputation.
When Do You Need to See a Neuropsychiatrist in Patna?
You should book your appointment with the top neuropsychiatrist in Patna i.e. Dr. Vivek Pratap Singh if suffering from the following conditions:
Degenerative Diseases:
Degenerative diseases cause decay in cognitive ability and mostly affect old aged persons. It results in the damaging of the structure or functions of the affected tissues and organs.
However, Osteoporosis, Osteoarthritis, dementia, Parkinson's disease, and Alzheimer's disease are some of the common degenerative diseases.
Neurotic Disorders:
Neurosis or psychoneurosis or neurotic disorders include functional mental disorders such as generalized anxiety disorder (GAD), Panic Disorder, and Obsessive-compulsive disorder (OCD).
They result in anguish and compulsive thought patterns but not hallucinations or delusions, whereby the behavior is not outside the boundary of socially acceptable norms.
Childhood & Development:
Childhood and development disorders include Attention deficit hyperactivity disorder (ADHD), fetal alcohol syndrome, tic disorders, etc. that impairs the neurological or emotional, or behavioral development in children and adolescents.
You will be delighted to know that Dr. Vivek Pratap Singh is also fitted as the best Psychiatrist in Patna Kankarbagh for child and development disorders. He treats children with affection and care and his overall costs are also feasible.
Mood Disorders:
Mood disorders increase the risk and thought of suicide. Here, the general emotional state gets wrench with troubling circumstances in life. It interferes with the person's ability to function and he/she may be extremely sad, irritable, or excessively happy.
Major depressive disorder, bipolar disorder, seasonal effective disorder, cyclothymic disorder, and premenstrual dysphonic disorder are some of the examples.
Sleep Disorders:
Sleep disorders affect more than 10% of the world population. It is basically abnormal changes in sleep patterns and can negatively impact your mood, energy, ability to handle stress along with your physical health.
Nonetheless, sleep apnea, insomnia, narcolepsy, REM sleep behavior disorder, and restless legs syndrome are the five common types of sleep disorders.
Psychosis:
Psychosis is a serious mental disorder where the affected person has an impaired relationship with reality. However, the person is not at all aware of his/her bizarre behavior. The person may experience frequent hallucinations, delusions, or disorganized thinking.
Further, types psychosis include: brief, reactive psychosis, substance-related psychosis, organic psychosis, psychotic disorders, bipolar disorder, delusional disorder, and schizophrenia.
Dr. Vivek Pratap Singh (Best Psychiatrist in Kankarbagh, Patna) can best deal this mental issue.
Eating Disorders:
Eating disorders are related to persistent eating behaviors that negatively influence physical growth and psychological development in children, adolescents, and adults. Moreover, it can also impact your body's ability to get proper nutrition. Persons with eating disorders mostly remain preoccupied with food and weight.
Anorexia nervosa, bulimia nervosa, binge eating disorder, pica, rumination disorder, and avoidant or restrictive food intake disorder (ARFID) are the most common types of eating disorders as encountered by people.
Addiction Disorder:
Addiction is a complex psychological or physiological condition or a brain disease. One can evince it by compulsive substance use. The satisfying results of these substances act as a stimulant for the intermittent intake despite the harmful consequences.
Addiction to substances like alcohol, tobacco, cocaine, methamphetamine, sedatives, hypnotics, anxiolytics, opioid painkillers, marijuana, hallucinogens, inhalants, and etc are possible.
Dr. Vivek Pratap Singh – The Best Psychiatrist in Kankarbagh, Patna    
In case you or your loved someone is encountering any of the above-mentioned conditions related to neuropsychiatry, contact the best neuropsychiatrist in Patna, Dr. Vivek Pratap Singh. He has treated numerous neuropsychiatric patients and they have recorded a very low rate of complications.
He also provides assistance for the post-treatment phase leading to an effective recovery. Dr. Vivek Pratap's Neuro and Child Psychiatry Clinic is known for providing the best possible treatments for neuropsychiatric illnesses.
Dr. Vivek Pratap Singh (Top Psychiatrist in Patna Kankarbagh) pursued his MBBS from a WHO listed, top-ranked government college and further did his post-graduation from Pune. He even worked as a neuropsychiatrist at the prestigious AIIMS Patna and currently, he is a dedicated psychiatrist in PMCH hospital. The PMCH psychiatry department is truly gifted with his 10 years of accomplishments in the world of medicine.
Neuropsychiatric disorders are complex conditions. One should not delay treatment of these disorders. We definitely recommend you to go for Dr. Vivek Pratap Singh, the best neuropsychiatrist in Patna. Trust us, you will be in safe hands!