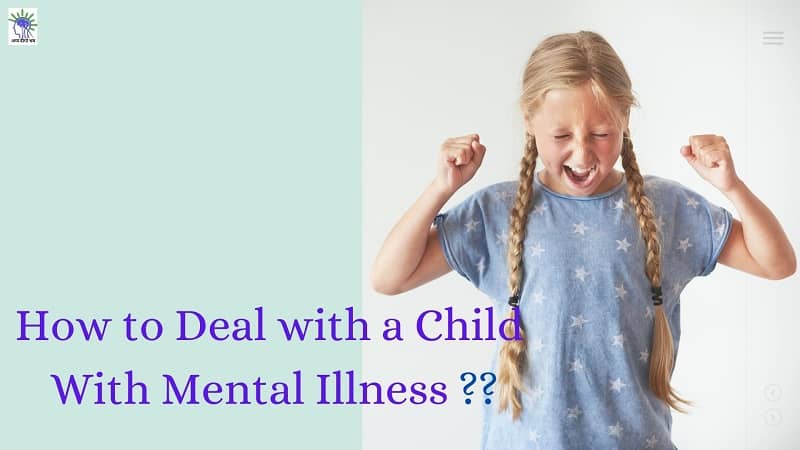 02 Apr

Powerful Ways to Deal with your Child's Mental Disorder

Dealing with a mentally ill child is hard and you must be surfing for the solution of how to deal with a child with mental illness.

We know that it's tough to cope with these situations but you don't have to worry.

Comparatively, one thing you need to do is, go through this blog briefly to comprehend the solutions for your frantic issues.

Moving on, if your child is suffering from a serious disorder of mental illness you don't need to wait as the condition will go Spartan with the time.

Moreover, if you are residing in Bihar then you must visit Dr. Vivek Pratap Singh who is known as the finest Neuropsychiatrist in Patna.

Additionally, he is one of the experts in the treatment of children but we'll talk about him later in brief.

First, let's understand how to cope when your child has a mental illness?
How to Deal with A Child with Mental Illness?
Mental disorders in a child can be easily visible by his disruptive and hyperactive behaviors.
Moreover, your child may get emotional frequently and suddenly get happy and will also show some worrying responses.
It's important to take him to a doctor or psychiatrist most prominently you also need to take care of yourself along with your child.
Below are some ways provided to cope with your mentally disturbed child.
How to Cope with Grown Child with Mental Illness?
Keep the overall record of your child's behavior in a diary every day.
Take professional help and help your child with the mental illness.
Spend more and good time with your child and try to do playful activities.
Most importantly don't stress out and take some time for yourself too.
How to Support A Child with Mental Health Issues?
Try to build trust with your child and help them in doing homework and extra-curricular activities.
Additionally, you also need to build some good habits for you as well as your child and try to be consistent with the activities.
Moving on, let's get ahead to some of the foremost types of the child's mental disorder.
Child Mental Disorders List
According to research, 20% of children are found with some mental disorders. Comparatively,  these disorders may be seen as misrepresentations of emotions and behaviors.
Below are some of the types of mental problems that a child faces…
Anxiety disorders
Obsessive-compulsive disorder
A depressive disorder like mood swings
ADHD or oppositional defiant disorder
Moving on, there is the term Munchausen Syndrome what is it? Let's see..
It is a syndrome in which a person acting like a child mental disorder only pretends.
Moreover, the syndrome includes many things like the person may pretend to be sick or any other serious disease like leukemia, cancer, etc.
Going further, taking care of your child with the care you must be also seeking for the solution for how to recover your child's mental health fast?
Read below to know the same….
How to Improve Child Mental Health?
We know you need to enhance your child's health but before that, you must take care of yourself too.
Moreover, by doing this only you'll be able to improve your child's condition.
Ways to Boost your child's mental disorder…
Maintain a proper and healthy diet for your child
Plan vacations and go for outing with your child
Try to take them to natural places and recognize them about the environment
Create a healthy and beautiful relationship with your child
Teach them new skills and encourage their activities.
Moving on, to know more about the disorders you can also go for some Childhood psychiatric disorders ppt provided on google.
Sometimes, you are not able to understand why your child is behaving like this and you are doubting whether he/she is suffering from a mental disorder.
Comparatively, you can check the symptoms on google or talk to a good psychiatrist.
Child Mental Illness Symptom Checker
The behavior of your child is indicating mental disorder and you are getting concerned about your child.
Moreover, you can get your answers by telling the symptoms to your doctor or can check it on google.
Here are some of the symptoms that may indicate the mental disorder of your child.
Your child is very sad for some days.
He/she gets angry very easily.
Starts fighting with anyone.
Suffers from several mood swings.
Dr. Vivek Pratap Singh – The Best Child Psychiatrist in Patna
Dr. Vivek Pratap Singh one of the renowned psychiatrists of Patna is 9 years of expertise in these fields.
Moreover, he is the finest Child psychiatrist in Patna and has treated many children by providing instant recovery.
Also, he has completed his M.B.B.S from BP. Koirala institute of health science in 2012 & M.D(Psychiatry) from D.Y Patil college in 2018.
He is very friendly with the patients especially with the child and his charges are also inexpensive.
Also, currently, he is practicing at his organization ''Child Psychiatry clinic" in Kankarbagh.
The Conclusion
So, here we sum up our discussion on how to deal with a child with mental illness.
Moreover, we hope that this blog was useful for you, however, if you find any queries feel free to tell us in the comment section below.