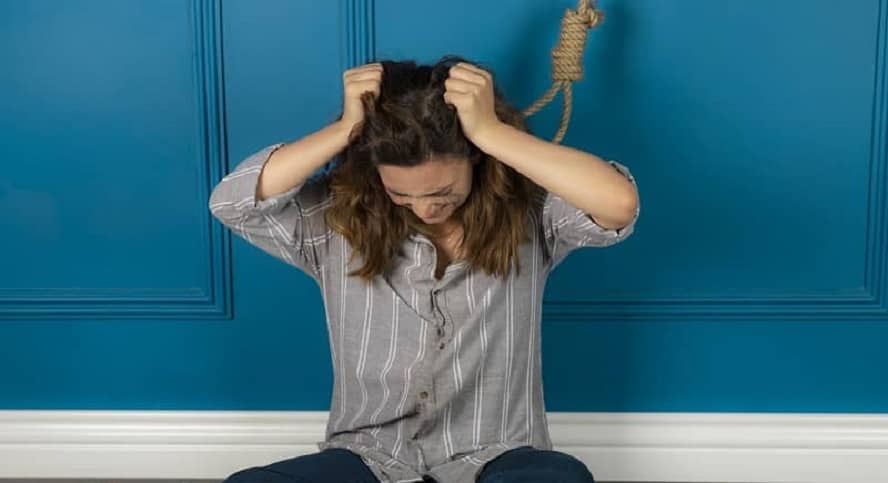 08 Feb

Suicidal Ideation: Symptoms, Diagnosis, & Treatment

The term suicidal ideation is related to suicidal thoughts or ideas. The term describes about the thoughts of a person who wishes to finish his/her own body.

These suicidal thoughts are sometimes and many times the result of depression, anxiety, and stress. When the person feels distressed and thinks there is no more way left to get things done right chooses suicide.
Types of suicidal ideation
Although suicidal ideation is considered as the suicidal thought which comes into a person's mind. But then also there are basically two types of suicidal ideation. They are:-
1)Active suicidal thoughts-
This is the most dangerous stage and type of suicidal ideation. In this kind of suicidal ideation, you may not only think of suicide but also try to commit it. For example- If you have tried to harm yourself in the past using any kind of weapon or in any other way then definitely you are under active suicidal ideation.
2)passive suicidal thoughts-
Passive suicidal thoughts are also very harmful and stressful. In this kind of suicidal thought, you wish to god for ending your life mysteriously. And with this kind of suicidal thoughts, you don't have any kind of intention to harm yourself directly.
Meanwhile, if you are a person who is suffering from any kind of stress or depression then you should go through a Suicidal tendency treatment in Patna.
Before committing any of the wrong and worst decisions, you should understand that everyone faces good and bad times. So, you should not get panic at your bad times and finish your life. Rather you should move forward with rising strength and positivity to get success in your life.
To understand decided suicidal ideation more precisely you should give a look at the symptoms of the suicidal tendency. If you find these symptoms in yourself or in someone else, then you can go for suicidal ideation treatment.
Symptoms of suicidal ideation
The Top 5 symptoms of suicidal ideation include:-
1) talks about suicide-
If you are always talking about suicide and death then definitely it is a warning sign. When a person wants to end his life due to some kind of stress and depression then he starts talking about suicide.
If you are also discussing suicidal thoughts and various ways to end your life, then you are probably in not a good mental condition. You must be under any kind of stress and pressure. Therefore the best way is to discuss your problem with other people not about ending your life.
2) cutting social contact-
Isolating oneself is one of the main causes of depression and stress. Whereas vice versa depression and stress are also the cause of isolating oneself and cutting social contact with society.
The biggest problem is also related to social contact. Sometimes excessive harassment and jokes from nearby social people cause harm to our heart and mind. This makes our soul full of anxiety and sadness. Therefore, also many of us want to cut our social contact.
But this is not the solution. Don't cut your social contact rather you should change your surrounding and your neighbor contacts. Try to avoid those kinds of people who are making you depressed and feel down. Then enjoy your life peacefully.
3) Fluctuation in appetite-
Due to anxiety and stress, a person can feel a fluctuation in their appetite. Sometimes he can feel that there is a rise in his hunger and sometimes he may feel that he doesn't want to eat anything.
If you feel the same fluctuation in your appetite, then definitely you should once meet a psychiatrist in Bihar.
4) mood swings-
If you are facing a lot of mood swings then you might be a sufferer of anxiety and depression.
Mood swings involve fluctuation in mental stability and feeling irritated almost all the time. It gives rise to extreme sadness and angry outburst.
5) feeling hopeless-
Everyone has ups and downs in their lifetime. At some point in life, almost everyone faces low self-esteem and worthlessness.
But the problem arises when you don't want to deal with your current situation. If you are feeling hopeless and unwanted, then you should work on yourself do understand that you can't please everyone and everybody.
Diagnosis
The diagnosis of suicidal ideation and thoughts involved questions and solutions. In the process of diagnosis, the doctor mainly asked the patient about their past journey in life. The doctor may also ask about the cause of suicidal thinking and the root cause for every thought.
The questions can be related to:-
1) mental conditions
A lot of times it is found that suicides are due to an unstable mental condition. The causes can be depression, anxiety, and stress.
So the doctor needs to diagnose the mental condition of the patient by asking some assessment questions in order to get close to the patient. Getting close to the patient is the most important thing in this process because in this kind of mental problem only close one can help.
2) Health conditions
Sometimes physical conditions also make the person mentally unstable and drag them to commit suicide. Therefore, in order to determine what is the main cause the doctor also goes through a physical checkup of the patient.
3)Treatment
1.Psychotherapy
Psychotherapy is basically the counseling treatment. It is a kind of talk therapy that is used by the therapist to understand the base cause of suicidal thoughts.
It involves counseling of psychological, emotional, and behavioral disorders therapy. This is done by a well trained and educated person who forms a relationship with the patient for helping the patient to come out of the fear and distress. This can be done by being friendly with someone and making them feel unjudged.
2. Yoga and exercises
yoga and exercises can help your body and mind to a good extent. Yoga connects our souls to God and makes us more conscious about ourselves.
There are various exercises and yoga sets available which can refresh your mind and soul. This will definitely help you and create your new life and new universe where you will feel wanted, loved, and connected to God.
3. Time management
The most important thing is time management and each one of our life. We want to tell you that if you have a lot of leisure time in your 24 hour schedule then definitely you can create a world full of utter nonsense.
But it is not always that people who have leisure time makes their time investing in negative things. It is your power and your time so use it wisely.
Conclusion
From the above conversation, you can get help in understanding the Symptoms, Diagnosis, & Treatment of suicidal ideation.
In the above blog, I have explained about the Top 5 Symptoms of suicidal ideation and how to deal with it.
Moreover moving forward, we would like to say that these tips and tricks can only help your patient to a certain level. But if you want a fully engrossed and trustworthy treatment then you can contact a Psychiatrist in Bihar for further treatment.
You can associate with the best psychiatrist in Patna for help and treatment. Our expert Dr. Vivek Pratap Singh has treated a good amount of patients to date who were having the same issues.