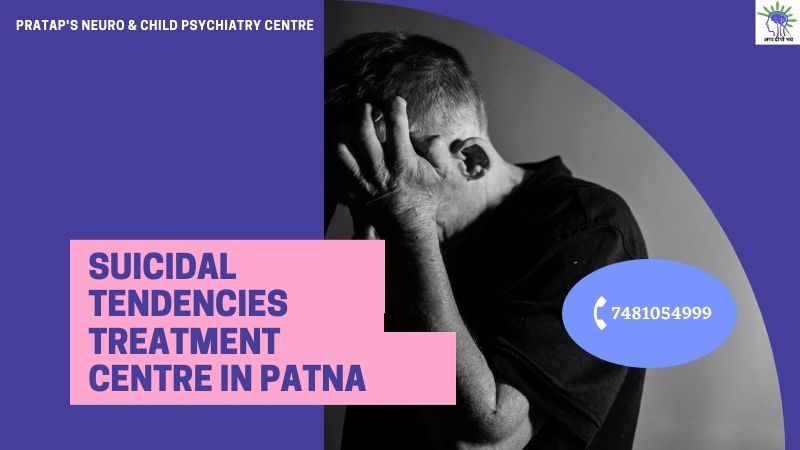 14 Oct

Suicidal Tendencies Treatment Centre in Patna "Pratap's Neuro & Child Psychiatry Center"

Pratap's Neuro & Child Psychiatry Centre is the best-rated suicidal tendencies treatment centre in Patna runs by Dr. Vivek Pratap Singh.

The Centre is one of its kind & provides the best treatment for mental illnesses.

However, here we are talking about suicidal thoughts & tendencies….though, about 1 out of 10 20 individuals in India suffers from depression & starts having thoughts about suicide.

For your utter knowledge we would like to tell you that Dr. Vivek Pratap Singh,  who is listed under the top 10 psychiatrist in Patna also provides the best depression treatment in Patna…so, if you know anyone who is suffering from acute depression…do make them consult with Dr. Vivek Pratap Singh.

Though….having anxiety or depression might be common…thinking of suicide is nowhere right!

But how are you going to deal with those trauma or anxiety…we'll help you out with our utmost efforts…& at Pratap's Neuro & Child Psychiatry Centre…. suicidal tendencies treatment centre in Patna ….that's what we do help our patients to get rid of those tensions & have a happy life ahead.
Suicidal Tendencies Treatment Centre in Patna
Pratap's Neuro & Child Psychiatry Centre with its advanced facilities & excellent diagnosis of mental disorders & also at affordable cost is the best suicidal tendencies treatment centre in Patna.
Moreover, Dr. Vivek Pratap Singh who is having a wealth of experience and diverse expertise furnishes life-saving & life-changing treatments & experiences.
He is Patna's foremost psychiatrist having more than 10 years of experience in this field….& with his utmost efforts giving valuable treatments to his patients since then.
Facilities of Suicidal Tendencies Treatment Centre in Patna
The utmost goal of our suicidal tendencies treatment centre in Patna is to furnish world-class treatment & facilities to our patients.
Why Choose Us?
Dr. Vivek Pratap Singh…the renowned Psychiatrist in Patna Kankarbagh….has led his treatment center the most respected & reputed.
Though, the Treatment Facilities at Pratap's Neuro & Child Psychiatry Center are:
Daily Assistance
Monitoring recovery, supporting daily activities, regular updates to ongoing family members.
Best Living Conditions
It feels like a patient's home. We offer homely conditions that make your stay easier and recover faster.
Social Activities
Additional activities play an important role. There are daily yoga, meditation, drama, drama, dance, music, and other entertainment program sessions to help people recover quickly.
Psychotherapy Unit
We have a separate & unique psychotherapy unit with expert psychiatrists & help the patients in all the possible ways.
24*7 Professional Care
All the people out there are available 24/7, so that everyone can get 360-degree attention & all the necessary treatment.
Our Treatment Services Include:
Along with suicidal treatment tendencies…we provide different treatment facilities….let's see them individually.
OCD
Obsessions are persistent, uncontrollable thoughts, impulses, or images that permeate, become unwanted, and get in the way. It causes anxiety and discomfort that significantly interferes with normal life.
Though, patients are well treated for their OCD here.
Depression
Depression is a psychological illness that must be distinguished from frequent mood swings and low levels.
If we don't do this now, we'll be on the list of 264 million people with depression worldwide.
Depression, also known as "clinical depression" or "depressive disorder," is a mood disorder that causes unpleasant symptoms that affect everyday life, such as sleep, diet, and exercise.
Moreover, the key to distinguishing the low phase from depression is that these symptoms need to be consistent with daily patients for 2 weeks.
Dr. Vivek Pratap Singh being the top psychiatrist doctor in Patna, provides the utmost treatments for people who are suffering from depression & anxiety.
Schizophrenia
Schizophrenia is a very serious and chronic mental illness that affects about 1% of the world's population.
Albeit, these patients often have delusions, hallucinations, behavioral disorders, confusion or illogical thinking, poor concentration, suspicious episodes, sensations of black magic, poor communication, poor social interaction, strange or abnormal. Experience behavioral or stimulating and violent nasty positions.
Though, Early diagnosis is the key to effective treatment and treatment. It is found in men and women of all ages and usually requires lifelong care and treatment.
Furthermore, Dealing with the illness is really very stressful and it is imperative to seek professional medical assistance and assistance to help the patient lead a functional life.
Bipolar Disorder
Bipolar disorder is a state of mental health in which a person experiences severe changes in mood, behavior, and attitudes toward life.
Moreover, It is an overly euphoric and frustrating behavior (hypomania), including hopelessness and anxiety, increased self-esteem, increased energy, over speaking, exaggeration, spending, overactivity, insomnia, and frequent changes.
Treatment is provided by a team of trained professionals, including psychiatrists, clinical psychologists, counselors, and psychiatric nurses. Patients can lead a healthy life with proper care and dosing adherence, treatment assistance, and supportive environments and relationships.
Note: Searching for the best psychiatrist in Patna Quora…then, Dr. Vivek Pratap Singh is the best.
Dr. Vivek Pratap Singh is the finest Neuropsychiatrist in Patna for all the mental problems following up with suicidal tendencies.
Just contact on this number +917481054999 to have an appointment with him.
Wrapping Up
Having suicidal thoughts is not considered okay & it can't be neglected…help those who are in need…make them consult with a Psychiatrist, that's the only way to help someone.
If you are from Patna, Bihar & know someone who needs the help of a Psychiatrist…then do consult our Suicidal tendencies treatment centre in Patna.