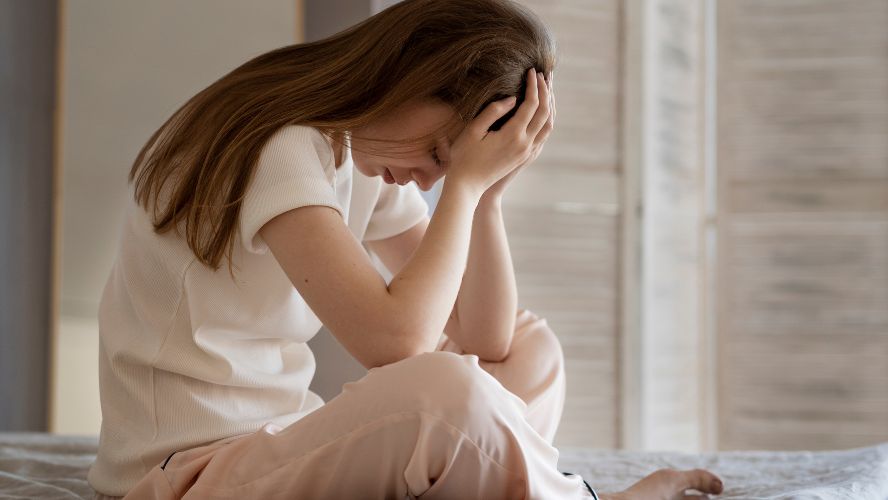 15 Apr

Understanding Vaginismus: Causes, Symptoms, and Diagnosis

Are you a woman suffering from painful intercourse? Well, having painful intercourse is a natural thing for most women when they had sex for the first time. 

But, this pain is so intense that it's difficult to insert anything into the vagina including a tampon or any medical instrument. 

Unfortunately, if you are suffering from this condition you might have Vaginismus. It's a condition where the muscles of the vagina contract involuntarily or persistently.

Because of this contraction, one feels burning pain in the vagina which makes intercourse impossible. 

But don't worry. In this blog, we will discuss vaginismus: causes, symptoms, and diagnosis and explore some of the ways how Can vaginismus be cured. 
Vaginismus: Overview
It's a type of condition in women where they feel intense burning pain during intercourse because of vaginal tightness. 
According to a doctor and Sexologist in Patna, it's a sexual dysfunction in women that can be either primary or secondary. Primary vaginismus happens when a woman has pain every time something entered their vagina, including a penis, tampon, finger, etc.
On the other hand, secondary vaginismus is when a woman has had sex without pain before, but after it becomes difficult and painful to have intercourse. 
The good thing is sexual dysfunction can occur in both males and females. And, because of modern science, it can be cured and treated easily.
Now, in order to learn about its causes and the ways it can be treated. Let's move forward to the next section of this vaginismus: causes, symptoms, and diagnosis blog.
Causes And Symptoms of Vaginismus
Knowing the exact cause of vaginismus is difficult because it depends on various factors. Moreover, it can vary from one woman to another. 
But still, below we have mentioned some of the possible causes of Vaginismus.
Psychological factors: 
Anxiety, fear, and past trauma are some of the major triggers that contribute to the development of vaginismus. 
women who have experienced sexual abuse in the past or any assault develop will this condition. Their body takes involuntary actions and tenses up in response to the memory of the trauma. 
Suffering from depression, fear of getting pregnant, and dissatisfaction with one's body are also some of the causes.
Physical factors: 
Unlike psychological factors, physiological causes are less common in women for vaginismus.
Certain medical conditions, like infections, pelvic floor dysfunction, and hormonal imbalances can contribute to the cause of vaginismus.
Moreover, rigid hymen and the inflammation of the Bartholi glands are also the reasons behind the development of vaginismus.
Apart from these, having relationship issues can also trigger problems in women. Because of the lack of emotional intimacy, they feel pressured to engage in sexual activity which increases the chances of developing this condition.
Now talking about the symptoms of vaginismus, pain in the vagina is often the most common one in all women. 
When they asked What does vaginismus feel like? Most women explained it as a burning sensation inside the vagina or a feeling like a penis is "hitting a wall".
Well, since the symptoms of this problem change from one woman to another. Below we have mentioned some common symptoms of vaginismus.
Loss of sexual desire 

Painful intercourse with a burning sensation inside the vagina.

Discomfort while inserting the tampon or menstrual cup.

Diminished libido profile due to pain 

Feeling muscle cramps in body parts like legs, lower back, etc.

Anxiety or fear related to sexual activity or gynecological exams.
Now after knowing the causes and symptoms of vaginismus you might be thinking about How to treat vaginismus.
So, move on to the next section of this vaginismus: causes, symptoms, and diagnosis to get your answers. 
Diagnosis And Treatment Of Vaginismus
Diagnosing vaginismus can be challenging because there is no specific medical test or examination that can identify the condition. 
However, doctors may be able to diagnose vaginismus based on the women's medical history and carry out a pelvic examination.
They will look for any sign of involuntary contraction or muscular cramps. Moreover, they also look for infection or scarring and if they don't find anything then there is no physical reason for the vaginismus problem.
In that case, they ask questions like when you first noticed it, what seems to trigger it, etc.
They also ask about the sexual history of the woman and learn whether she has ever experienced any sexual trauma or abuse. 
Since psychological factors also play a major role in this issue. Doctors recommend taking care of mental health under the guidance of mental health professional.
Now, talking about the ways to treat vaginismus there are different ways. Generally, the treatment involves therapy to reduce the tightening of the vaginal muscle.
In most cases, the reason behind the burning pain during intercourse is poor lubrication. So providing proper lubrication or eliminating the factors that lead to poor lubrication is the best course of action to treat vaginismus. 
Apart from this, here are some of the best ways to vaginismus in women.
Vaginal Dilatory therapy

: In this therapy, tube-shaped devices are inserted into the vagina to stretch the vagina and reduce the pain and discomfort one feels during intercourse.

Progressive Desensitization:

It's a therapy in which the patient is penetrated gradually and each day they are encouraged to endure pain. 
It begins by touching the area close to the vaginal opening without causing pain then opening the labia and inserting the finger. 
Vaginismus exercises:

Pelvic floor control exercises associate activities like muscle contraction or relaxation or kegel exercises to improve the pelvic muscles. 

Surgery:

This is the rarest condition when Vaginismus surgery becomes necessary because of the vaginal problem.
Hence, these are some of the ways to treat vaginismus. So, without wasting any time let's conclude this vaginismus: causes, symptoms, and diagnosis with final words.
Conclusion
Vaginismus is a painful condition in women who can't tolerate the penetration of the vagina. It happens because of involuntarily contractions of vaginal muscles.
The good thing is there are ways to cure this issue. But the treatment solely depends on the cause of the problem. It can either be physical, psychological, or a combination of both.
So, if you live in Patna and are suffering from the same problem. Consulting the Best Sexologist Doctor in Patna will surely help you to get rid of this issue. 
It's important to seek medical help so you can experience a normal sex life.