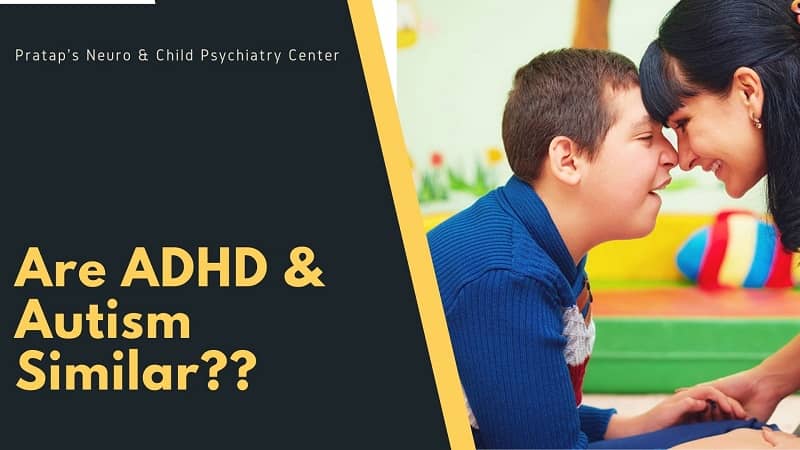 23 Mar

Are ADHD and Autism Similar? [Difference between ADHD and Autism]

Are you also demented with the question Are ADHD and Autism similar? Or do you also want to know whether ADHD and Autism are related to each other or not?

Then, this blog is only for you that will provide all the relevant answers to your muddling problems.

Now, getting ahead let's apprehend about Autism and ADHD together. Moving on, ADHD is a neurodevelopment disorder that occurs in childhood…. However, it is first diagnosed in childhood and lasts till adulthood if you don't take good care of it.

Similarly, ASD Is also a serious and complex neurodevelopmental disorder…. that leads to restrictive and repetitive behavior…

However, both disorders affect the communication, behavior, and development of a child.

As we know the disorders get severe with time… so don't let your child's life ruin and consult Dr. Vivek Pratap Singh…. Who runs his organization Pratap Neuro and Child Psychiatry that is the best Autism Treatment Center in Patna.

Moreover, we'll get back to him and his organization later… First, let's clearly distinguish between ADHD and Autism.
Difference Between ADHD and Autism
Autism and Attention Deficit Hyperactivity Disorder (ADHD) may share a lot of symptoms but differ a lot.
Autism Spectrum Disorder leads to some stereotype behavior… Whereas, ADHD impacts the development of the brain.
Let's understand the difference in brief….
How Are They Different?
Children with ASD find it difficult to do things like studying, reading, or anything which includes the usage of proper mind and will repeat the things that they like… i.e., playing, watching T.V, etc.
On the other hand, those with ADHD don't want to involve in things that involve concentration.
In the same way, kids with either disorder find it difficult to interact… However, the one suffering from ASD will have less social awareness.
Also, a child with ASD will find it difficult to talk… On the contrary, the one with ADHD may talk nonstop.
Similarly, this discussion also leads to the effect of autism vs ADHD in females…
So, the symptoms for both disorders are the same in females as that of the child.
Now, getting ahead with our next topic to discuss ADHD and Autism comorbidity…
ADHD and Autism Comorbidity – When They Occur Together?
Well, we have understood the dissimilarity between ADHD and Autism but what happens when they occur together?… let's comprehend.
Suffering from the disorder the doctor of your child may diagnose only one disorder while the child might be suffering from both.
Hence, according to research, 14% of children suffering from ADHD are more likely to have ASD.
Besides, children with both disorders are highly affected and have more learning difficulties than those suffering from only one.
However, both the disorders may be connected to genetics but proper research is required to understand the clear connection between both disorders.
Moving ahead, people also ask do I have Autism or ADHD quiz with my child….so, you must go for the quiz along with your child.
Now, moving further, we have acknowledged the occurrence of ADHD and Autism together… Subsequently, let's cognize the overlapping and discriminating symptoms of ADHD and Autism…
Autism and ADHD: Overlapping and Discriminating Symptoms
The study says that children with ASD can easily be distinguished from those with ADHD based on their symptom profiles.
Let's have some examples to see how they overlap…
How ADHD and Autism Overlap
Children with ASD struggle with many problems like difficulty in interaction, repetitive behaviors, difficulty in paying attention, and also some repetitive behaviors.
Yet, ADHD children find it difficult to concentrate, having eye contact, and also going into someone's personal space.
Hence, these overlapping systems may lead to improper diagnosis…
So, you need to explain to the doctor briefly about your child's condition.
Both the disorder is severe and may affect your child's health…. So, it's necessary to provide them proper guidance to cope up with these conditions…
Below, we'll be discussing how to guide a child with Autism and ADHD….
How to Parent a Child with ADHD And Autism
Your child is found to have ADHD and Autism after the diagnosis… He is not behaving well neither does any of your work properly…
So, does he need to be sorry for that… Do you think he or she doesn't deserve the same love?
According to us, the child suffering from these disorders needs extra care and love…
So here are some guiding tips which you should prefer to have a healthy life with your child…
Be reliable with your parenting.
Let your child play before doing any heavy task.
Help them in practicing relaxation exercises.
Help them in doing their homework with some extracurricular activities.
Now, moving next… we told you that we'll discuss Dr. Vivek Pratap Singh the best neuropsychiatrist in Patna…
Let's get ahead and have brief information about him and his treatment….
Dr. Vivek Pratap Singh
Vivek Pratap is the best neuropsychiatrist in Kankarbagh who provides the finest ADHD Treatment in Patna.
Additionally, he also has 9 years of experience in this field and rehearses at his child psychiatry center in Kankarbagh.
With such accomplished skills, he has treated many children providing faster recovery, and is also considered the best child psychiatrist in Patna.
Moreover, his fee is also inexpensive so, if you are the one residing in Patna, must consult him once for your child's faster recovery.
Now, on the whole we hope that we solve your query about Are ADHD and Autism Similar?
Besides if you still find any issue related to the blog…feel free to tell us in the comment section below…