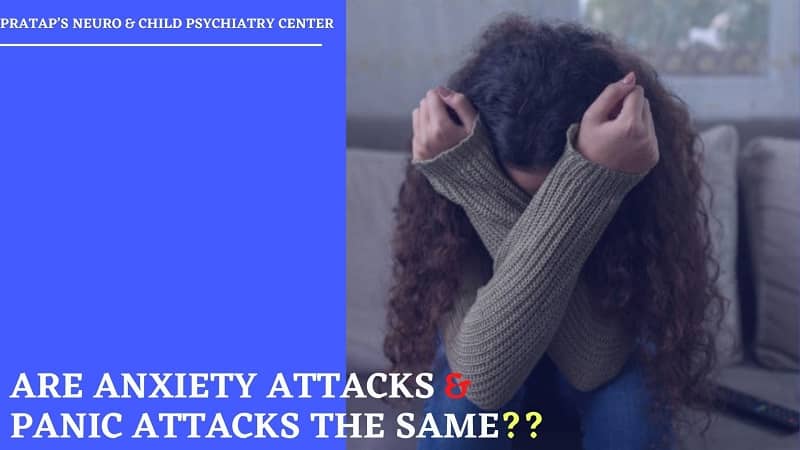 08 Apr

Why the Abrupt Anxiety and Panic Attacks Suppress You Every Time

Suffering from frequent anxiety attacks might be hard for you and you must be searching are anxiety attacks and panic attacks the same?

Moreover, people with anxiety attacks get disturbed very easily by little things and they can't handle even a little stress.

Accordingly, here in this blog, we're going to talk about persistent anxiety and panic attacks.

Moreover, if you are suffering from severe attacks of anxiety and are a resident of Patna then you should visit Dr. Vivek Pratap Singh as he is known as the best Neuropsychiatrist in Patna.

Now, forging ahead let's briefly understand the relation between Anxiety & Panic attacks.
Are Anxiety Attacks and Panic Attacks the Same?
Many people use both the term "Anxiety & Panic" correspondingly, but there are some slight differences between both.
Below is the basic meaning of both the disorder:
Anxiety Attacks generally occur in day-to-day life, if a person has created a habit of it.
Moreover, the disorder makes the person feel worried and alert all the time.
Although, a person having anxiety attacks might feel worried & fearful of all the little things.
On the other hand, Panic Attacks are enormous attacks of fear and anxiety and comes without warning.
Subsequently, panic attacks are not scary and generally last for 15 to 20 minutes.
So, we can say that there is a slight difference between both attacks.
Now, as we know that there is a difference between the attacks then the symptoms may also be different.
Additionally, let's understand some of the anxiety and panic attack symptoms individually.
Panic Attack Symptoms
Panic attacks arise for a shorter period, hugely for 10-15 minutes.
The Symptoms of Panic Attacks Include:
Pain in chest
Dizziness
Nausea
Shortness in breath
Feeling sweaty
Anxiety Attacks Symptoms
Anxiety attacks are frequent attacks and occur due to the feeling of worry and phobia of little things.
The Main Symptoms of Anxiety Are:
Feeling of restlessness
Fatigue
Pain in chest
Far of anything such as dying, doing something wrong, etc.
Moreover, if you are also getting these traumatic anxiety attacks then we would suggest you not wait and suddenly get treatment.
Also, we would recommend you to go for the best Anxiety treatment in Patna by Dr. Vivek Pratap Singh if you are a resident of Bihar Or Patna.
Now, getting ahead we hope that you have got the clear answer to your question are anxiety attacks and panic attacks the same?
Comparatively, it's also necessary to know what are the actual causes of both the attacks…
What Causes Panic Attacks & Anxiety Attacks?
Panic attacks and Anxiety attacks are sometimes expected and sometimes unexpected.
The Main Causes That Trigger Both the Attacks Are:
Intake of caffeine
Social stress
Quitting the habit of smoking or alcohol
Any stressful event in the past
A family member having the same disorder
You must be wondering how to suppress the triggers and stop these attacks…
So, keep reading the blog to know the same…
How to Stop Anxiety Attack and Panic Attack?
It's hard to cope up with these massive attacks but you don't have to lose your patience and try to keep calm.
Below Are Some of The Proven Ways to Reduce the Effect of Attacks:
Try to do deep breathing every day to suppress the effect
Find an object and focus on it while getting the panic attack
Try to smell some soothing scents like lavender, etc
When you acknowledge you are getting an attack try to remember happy things
Do some relaxing and light exercises
Moving on, many people get confused about whether they are getting anxiety attacks or panic attacks?
So, to know this you can also go for a panic attack vs anxiety attack quiz, it may help you in recognizing your disorder.
Now, every disorder comes for a certain period of time and some are incurable too that lasts forever.
Additionally, to know for how much time these attacks last you need to read the blog below…
How Long Do Anxiety Attacks Last?
Anxiety attacks generally build-up for some specific time, however, they stay for some time and then fade away.
How Long Do Panic Attacks Last?
Panic attacks start suddenly and stay for 10 minutes or a maximum of 30 minutes.
Moreover, if it lasts more than that the usual time is considered as high anxiety.
Moreover, people getting anxiety attacks may also progress to panic attacks too.
Dr. Vivek Pratap Singh – The Best Neuro Psychiatrist in Patna
Dr. Vivek Pratap Singh is considered the best psychiatrist in Kankarbagh, Patna for anxiety and panic attacks.
Moreover, he has a calm nature and treats his patients in a very friendly way.
Although, he has completed his M.B.B.S from BP. Koirala institute and M.D (Psychiatry) from D.Y Patil College Dehradun.
The Reason You Should Consider Him for The Treatments Are:
He is young and dynamic
His services are inexpensive
Make utmost efforts to treat his patients
Additionally, he also runs his own organization Pratap's Neuro and Child Psychiatry Center.
Summing Up
We through this blog tried to give you an overall answer on are anxiety attacks and panic attacks the same?
Hopefully, you have understood all the terms and enjoyed reading the blog.
However, if you feel any kind of suggestions or queries tell us in the comment section below.