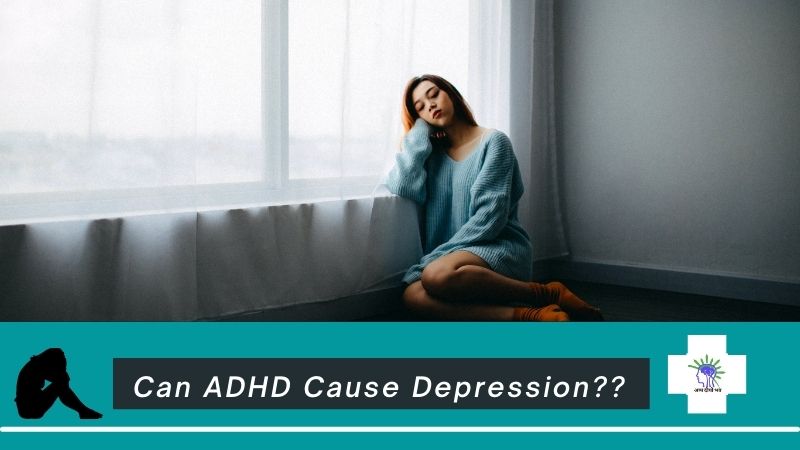 08 Jul

Can ADHD Cause Depression: Here's What You Need to Know!

ADHD is an umbrella term for a wide range of symptoms, having ADHD & Depression both seem similar, & you must be getting confused, can ADHD cause depression?

ADHD is generally a mental disorder that occurs in childhood, but untreated ADHD can take on board till adulthood.

So, if you are a parent confused about whether your child's ADHD will lead them to depression, read the blog uprightly to get the outright information regarding ADHD and Depression.

Moreover, in the first hand, let's recall the hitch between ADHD & depression.
What are ADHD and Depression?
Attention deficit Hyperactivity disorder aka ADHD is a neurobehavioral disorder that involves inattention, hyperactivity & impulsiveness.
Likewise, it's generally a childhood disorder, but the doctor sometimes doesn't diagnose it till adulthood.
On the other hand, if talking about depression, it is a mood disorder that describes the feeling of sadness & also the loss of temper.
Note: If your child has the symptoms of ADHD, then it's better to talk to a good psychiatrist before it's too late.
Moreover, if you are from the North, Bihar, then talk to Dr. Vivek Pratap Singh who furnishes the finest ADHD treatment in Patna to the children.
Besides, we'll have a talk about him later, Can ADHD lead to depression, and what effects does untreated ADHD cause.
Can ADHD Cause Depression and Anxiety?
Having ADHD puts you at a higher risk of other mental disorders including depression.
Huge adults and Children suffer from depression due to ADHD & the research has also stated that people with ADHD are 10 times more likely to get depression than those without ADHD.
 Can Untreated ADHD Cause Depression?
The nature of ADHD if untreated can sometimes cause depression. Moreover, having untreated ADHD can lead to chronic depression.
In the same manner, the struggles with ADHD can cause trouble in school, relationships, work, and other social areas.
However, 25% of adults having ADHD don't get treated, but getting ADHD managed can be a key element in crushing depression.
There is also evidence, that untreated ADHD can increase drug abuse, moreover, it will also increase the risk of suicide, let's see how!
Can ADHD make you suicidal?
The youth with ADHD are at higher risk of suicide due to their impulsive & aggressive nature.
Moreover, impulsiveness can drive them to suicidal thoughts due to a high levels of distress & depression.
The adults with ADHD are at more dangerous risk of doing irrelevant things & they don't even think of the aftereffect of attempting suicide.
Note: If you suspect you might be depressed due to your impulsive ADHD then, talk to Dr. Vivek Pratap Singh who is the chief ADHD treatment doctor in Patna.
According to research, it has also been found that girls with ADHD are more likely to get themselves harmed rather than boys.
Can ADHD Medication Help With Depression
Results show that some drugs approved to treat ADHD can hold on to some behavioral disorders & may also improve cognitive function.
But, you might see some negative after-effects of the medicine, so, it's better to go for a psychiatrist & consume the only medication prescribed by him.
Rather, than the medication, the therapies can be more productive and will improve the condition of depression & ADHD in due time.
Dr. Vivek Pratap Singh [Provides Best ADHD treatment in Patna]
Dr. Vivek Pratap Singh is the best Neuropsychiatrist in Patna, Bihar, and provides the best ADHD treatment in Patna.
He currently works as a child and adolescent neuropsychiatrist at PMCH Patna.
In addition, he also works at Pratap Neuro, in addition to working on daycare addiction.
Why You Should Choose Dr. Vivek Pratap Singh?
9 years of experience
True testimonials of patients' recovery
Excellent communication skills
Friendly nature
No exorbitant fee
Treatments are Value for money
The Bottom Line
ADHD & depression both can have a drastic effect on a person's life, so it' better to get treatment before it's too late.
Moreover, we tried to give admissible information on can ADHD cause depression, comment your thoughts about the same, in the comment section below.