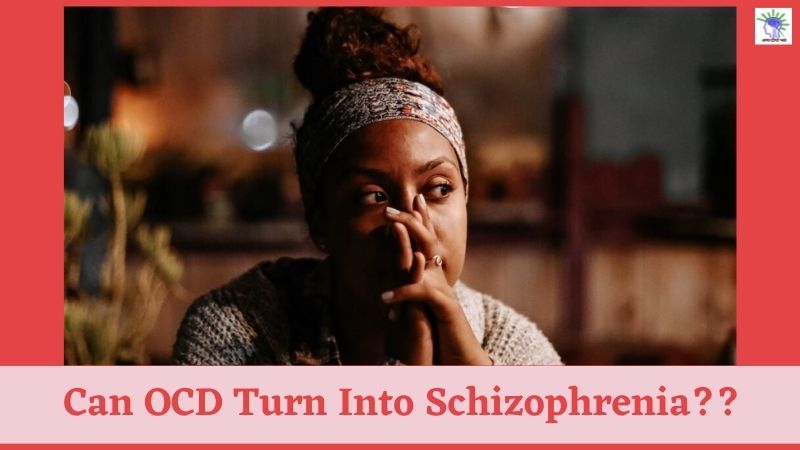 08 Jun

Get your Answer to the Overwhelming Question! Can OCD Turn Into Schizophrenia?

OCD is a compulsion disorder, on the other hand, Schizophrenia is a psychiatric disorder, so what's the alliance between both of them & can OCD turn into schizophrenia.

Well, if you are willing to know whether a person with OCD can reach out to psychotic disorders or not, then you have landed on the right page.

Thus, keep on reading the full blog with us for better understanding of both the term.

So, let's cut to the chase and initially comprehend OCD and schizophrenia alone.

Moreover, after that, we'll understand what could be a relation between them.

Apart from that, if your child is bearing the quandary of OCD, then it's your responsibility to take care of them and more than that, a good psychiatrist is crucial.

So, if you are a resident of Patna, Bihar then, and Dr. Vivek Pratap Singh who endows the best OCD Treatment in Patna can be an excellent preference for you.
Is OCD A Serious Mental Illness
Can OCD Turn Into Schizophrenia? Obsessive-compulsive Disorder is an unceasing mental disorder that leads to obsessive and compulsive behaviors.
More than that, when the condition goes stern, it can be intimidating and may also ruin the life of the person and their relationship.
Symptoms of OCD
Washing hands regularly
Repetitive thought of doing things you don't want to do
Arranging things in a précised way regularly
Cleaning thins even if they aren't dirty
Moving on, these were only some of the symptoms, there are lots of things that are faced by OCD sufferers on daily basis.
What is Schizophrenia Obsessions?
First, you need to know that schizophrenia is a serious mental disorder in which a person hallucinates and doesn't understand the difference between reality and delusions.
Moreover, unlike OCD patients, they never understand that they are doing something wrong and make their delusions their reality.
Let's understand in brief: suppose a person is suffering from schizophrenia and thinking that someone might harm him/her, but that's not true.
Hence, in that case, the schizophrenic will start withdrawing their relations with the other person without understanding the truth.
More than that, it's quite possible to have obsessions during schizophrenia, but is it the same case with OCD patients? Can they also become schizophrenics, and what causes more harm OCD or schizophrenia?
Note: If suffering from schizophrenia, then do consult Dr. Vivek Pratap Singh who provides the finest Schizophrenia Treatment in Patna.
Can OCD Turn Into Schizophrenia?
Having OCD can increase the risk of Schizophrenia, but that doesn't mean it can turn into schizophrenia.
However, there is a lot of environmental and genetic factor for schizophrenia and OCD can only be a risk factor that may lead to psychosis.
On top of that, if OCD becomes stern then it might stress the mind too much and resemble some psychotic symptoms.
Can OCD Mimic Schizophrenia?
Sometimes, OCD seems to be psychotic in nature, so, it's quite possible that a person suffering from OCD might get misunderstood with schizophrenia.
More than that, some doctors also get confused while differentiating between both disorders.
Moreover, there are also some cases of schizophrenia and obsession with a person; hence, this usually happens when a person doesn't get love during childhood.
Well, they may have faced childhood abuse and can become more obsessive and protective about their relationships.
However, apart from both the disorders and the term can OCD turn into schizophrenia? There is one more common disorder that is "Paranoia", what's this disorder & what's its connection with OCD? Let's understand…
What Is OCD Paranoid Delusions?
Paranoia is also a mental disorder characterized by delusions and irresistible compulsions.
However, OCD is a disease of doubt, the person knows the difference between reality and delusions and they also understand that they are doing something wrong but can't resist doing it.
In the other case, paranoid patients lose the touch with reality and aren't capable enough to understand the difference between real and fake.
What Is OCD with Psychotic Features Dsm-5?
OCD is defined as Dsm-5 when there are recurrent thoughts and urge to do repetitive things like washing hands, cleaning things, and many more.
Dr. Vivek Pratap Singh – The Best Psychiatrist in Patna
With all the subtle qualifications, Dr. Vivek Pratap Singh is the finest Neuropsychiatrist in Patna and also a specialist with 9 years of experience.
On top of that, he holds the degree of MBBS and a highly recommended psychiatrist in the field of Neurology.
Also, he is a very calm and vibrant person treating his patients with love and care.
If considering his education, he has completed MBBS from WHO listed college and MD (Psychiatry) from Dehradun.
Likewise, he worked as a Neuropsychiatrist in AIIMS Patna and is a well-established Psychiatrist.
More than that, he has been working in PMCH Hospital for more than 10 years and also running his own organization Pratap's Neuro& Child Psychiatry Center.
The Takeaway
OCD and Schizophrenia both are mental disorders in different ways. But schizophrenia causes more harm creating instability in a person to differentiate between factual and fictional.
Now, we end up our blog here, if you want to have some more details about the article, then prefer reading can OCD lead to schizophrenia Reddit.
Apart from that, if you have any further queries regarding the blog. Then ask us right away in the comment section below.