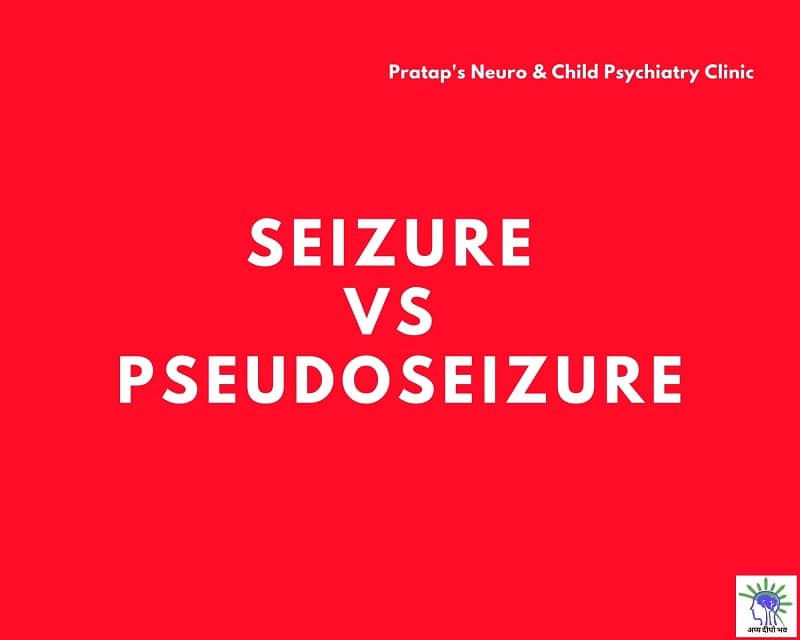 18 Dec

Difference between Seizure and Pseudoseizure

A seizure is a sudden event or occurrence when you lose control of your body and convulse, possibly also losing consciousness.

Epilepsy is thought to be the primary cause of seizures. Epilepsy causes sudden disturbances in nerve activity. Further, it causes seizures. Moreover, Seizures are of two types- Epileptic and Non-Epileptic seizures.

Non-epileptic seizures are not caused by epilepsy. Psychological conditions causes non-epileptic seizures. Non epileptic seizures are commonly referred as pseudoseizures. This is the basic difference between Seizure and Pseudoseizure. Let us get into some details.
What are the Causes of Pseudoseizure?
Most common cause of seizures is epilepsy. But, pseudoseizures has nothing to do with epilepsy and they are manifestation of psychological distress which include:
family conflict
sexual or physical abuse
anger management problems
panic attacks and anxiety
obsessive-compulsive disorder
affective, hyperactive and dissociative disorders
trauma or post-traumatic stress disorder
psychosis, such as schizophrenia
personality disorders, such as borderline personality disorder
substance or drug abuse
What Does a Pseudoseizure Look Like?
Though pseudo seizures are different from seizures yet the symptoms are same. The symptoms may include:
Attention loss
Loss of Consciousness
Lack of awareness
Confusion and stiffness
Blank Prolonged Stare
Specialists can help you identify your condition and type of seizures and help you battle any underlying psychological distress.
How to Get Rid of Pseudoseizures?
Conditions like pseudoseizures need critical care under specialist. Treatments of Pseudoseizures include:
Counselling
Cognitive Behavioural Therapy (CBT)
relaxation techniques
Behavioural therapy
Traumatic Memories sure includes -Eye movement desensitization and reprocessing (EMDR) therapy
Antidepressants
Medications for underlying psychological issues
Diagnosing Pseudoseizures is difficult as it holds resemblance to epileptic seizures.
Most of the people often search for Can Pseudoseizures kill you? You need not to panic under such situations. Rather, you need a critical diagnosis other it can be life-threatening.
Specialist use EEG recordings and monitor brain activity on video. When the patients have seizures, doctors monitor the brain activity through Video Pseudoseizures  and jot down all the details for diagnosis.
The clinical hardship is spotting difference between Seizure and Pseudoseizure.
Seizure vs Pseudoseizure Prolactin
Specialists come across a lot of problems while treating pseudoseizures as the symptoms described by the patients are same as that of epileptic seizures.
For recognising the difference between seizure and pseudoseizures, one Class I and seven Class II studies showed that elevated serum prolactin was highly predictive of either generalized tonic-clonic or complex partial seizures.
Living with Pseudoseizures
Seizures whether it be non-epileptic or epileptic should be supervised under specialists. Some people also come up with questions like Driving with Pseudoseizures. Basically, it depends upon the state laws and severity of your condition.
If you are experiencing any of the symptoms as listed above don't compromise with it. Mental Health is of the utmost importance and it needs critical care, awareness, and diagnosis by specialist.
If you , your kin or any of your friends are experiencing any symptoms of seizure and you are resident of North India or somewhere in Bihar, you might need to see neuropsychiatrist in Patna.
Let us make it easy for you. You can consult Dr.Vivek Pratap Singh who is listed as the best neuropsychiatrist in Patna for treating seizures. He is a distinguished alumnus of the reputed WHO listed B P Koirala Institute of Health Sciences. The psychiatrist also holds an MD in Psychiatry from D Y Patil Medical College and thus bring great acumen and knowledge of neuropsychiatry with him.
In addition, he has been an ex-resident at prestigious AIIMS Patna. Currently, he practises as Psychiatrist in PMCH Patna. He also provides neuropsychiatric treatment at his clinic Pratap's Neuro & Child Psychiatry Clinic, Patna, Bihar which specialises in treating neuropsychiatric illness, Dementia, Parkinson's disease, Sleep disorders, psychotherapy, movement disorder, epilepsy, seizures and day-care deaddiction.
In conclusion, we hope this blog answered all your queries regarding seizures, difference Between Seizure And Pseudoseizure, Difference Between Epileptic Seizures And Pseudoseizures PPT, Pseudoseizure Icd-10 etc. Post your further queries about difference Between Seizure and Pseudoseizure below in the comment section box.