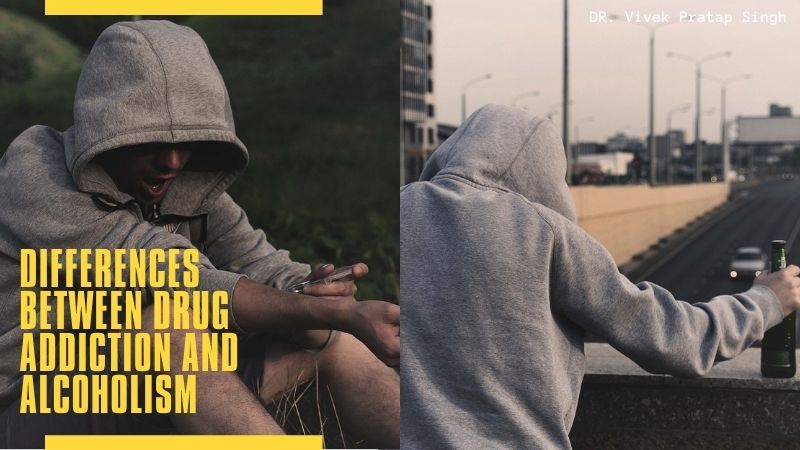 02 Aug

What are the Differences Between Drug Addiction and Alcoholism?

Both alcohol & drugs are a crunch but do only being a dangerous state that there are no Differences between Drug Addiction and Alcoholism?

Let's understand in brief… A person having an addiction to alcohol might end up getting heavily drunk or have a habit of drinking regularly.

Similarly, a drug addict would have an addiction to smoking weed or some other drugs.

So, where is the difference? Being addict to alcohol or drug! To get this idea in a better way, we should initiate with our discussion the difference between drugs & alcohol.
What are the Differences between Drugs and Alcohol?
Well, according to Dr. Vivek Pratap Singh Who is the top Neuropsychiatrist at Patna, both drugs & alcohol are dangerous, addictive & mind-affecting substances.
So, where does the difference stands? Well, the foremost difference between both things is their legality & social acceptability.
Where on the one hand, alcohol is legal and can be found in any liquor shop or bar, on the other hand, drugs are illegal, but still, people are consuming it but at a safer place.
But, being legal doesn't articulate that alcohol isn't dangerous & most people don't even realize that it's as harmful as drugs.
The only thing comprehendible about alcohol is it's a stress reliever and people consume it after work or any stressful event.
Differences between Drug Addiction and Alcoholism
Well, as we have discussed the legality plays a prominent role in the differentiation of both the substance.
While the other thing is the effect of both alcohol and drugs on a person's mental and physical being.
The Effects of Alcohol:
According to physical terms, the effects alcohol leave are; high blood pressure ulcers, damage to the heart, liver, and immune system.
Whereas, mentally the person starts getting depressed and has anxieties as well.
The Effect of Drugs:
Physically, the overdose of drugs can lead a person towards accidental death, violent behaviors, and organ failure.
In mental terms, the person starts getting aggressive, forget things usually, and can also get depressed over small things.
Note: If you know someone who needs help, then you must consult them to Dr. Vivek Pratap Singh who runs the best Deaddiction centre in Patna.
Now, these differences also state the answer to the question How Physical Addiction Differs Between Drugs and Alcohol?
Moving on to next, let's understand how both are similar.
How Drug and Alcohol Addiction is Similar?
Alcohol and drug abuse have similar symptoms and can be treated with the same technique.
Alcohol addiction is just one of the broader categories of drug addiction, each of which is intertwined.
While not all addiction causes the same feelings or withdrawal symptoms, all substance abuse stems from similar sources, such as the desire to numb physical or emotional pain.
How Many Drink is Classed as an Alcoholic?
According to NIAA, for men, consuming more than 4 drinks a day & more than 14 a week is classified as alcohol addiction.
And, for women, more than 3 drinks a day and more than 7 drinks a week can be classified as an addiction.
Some of the Signs Of Alcohol Addiction Are:
Experiencing temporary power outages or short-term memory loss
Showing signs of extreme irritability and mood swings
Making excuses for drinking, such as relaxing, coping with stress, or feeling normal
Choose to drink instead of other responsibilities and obligations
Distance from friends and family and distance from friends and family
Drinking alone or secretly
Feeling a hangover when you are not drinking
Changes your appearance and groups of acquaintances you associate with.
Dr. Vivek Pratap Singh: Best Neuropsychiatrist to Help Drug Addicts
Dr. Vivek Pratap Singh is a young and energetic Neuro and Child Psychiatrist who also works as a Daycare Deaddiction Specialist (Death without Admission) in Patna.
He is a specialist in neuropsychiatry and the first psychiatrist in Eastern India with a degree in neurology after completing his residency in psychiatry.
Moreover, He is also an expert in child and adolescent psychiatry and a pioneer in the field of daycare addiction in Bihar.
Above all, being the Best psychiatrist in Patna, he has been praise with many designations and awards for his work in the field of Neuro-science.
Among some of his works and deeds, being a doctor to treat drug addict youngsters and adults makes him a responsible doctor.
Nevertheless, if you have any other doubts on the Differences Between Drug Addiction and Alcoholism, do write us in the comment section below.