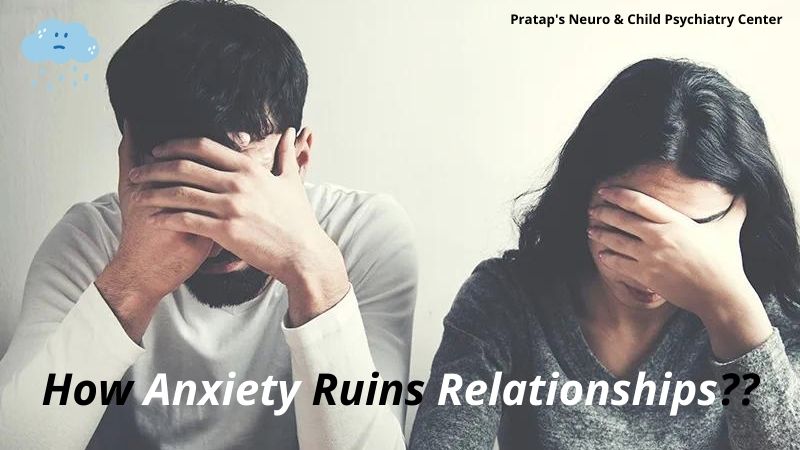 04 May

3 Ways How Anxiety Ruins Relationships: Dos and Don'ts

Having that special trust and bond in the relationship is so astonishing, the love and care for our partner makes them feel so special, but what if it's not working and how anxiety ruins relationships?

Moreover, it's a very serious issue, regarding the fact that the anxiety is creating obstacles in your relationship. And also erecting devastating effects on your partner.

Although it's not that easy being in a relationship with someone who has anxiety.

But, that's not earth-shattering; you need to understand how to deal with your partner.

And for that, we're gonna help you find ways to have a healthy life with your partner and help them outstripping their depression.

So, consider the steps or you can say some helpful ways below to have a healthy relationship, and don't make them feel that my partner makes my anxiety worse.

Now, before moving ahead, we're sure most of our readers must be from north Bihar, and if you are in seek of help for these relationship issues, then go ahead and try considering Dr. Vivek Pratap Singh the best anxiety doctor in Patna.
How Does Anxiety Affect Relationships?
Wondering how the anxiety of your partner or yours tarnishing your relation.
Then, have a look at these 3 devastating impacts of anxiety on you & your partner's life.
3 Ways How Anxiety Ruins Relationships
Creates Communication Problem
Anxiety causes dispute and it's hard to even talk to your partner as it has already been so clumsy.
Being with such mental trauma of unhealthy relationships, it's common you'll feel defensive and overwhelmed.
Moreover, you'll not be able to express you feeling and that's how there is an interlink between anxiety and communication in relationships.
Breaks Trust
Trust it's a very short word but is the most important especially in a relationship.
But if it breaks it will destruct the entire relationship as it's the foundation of love.
Moreover, the demolition of trust is also going to break the connection with your partner and you're always gonna wonder how anxiety ruins relationships?
Shatters Joy
Having that intimate bond is quite necessary for an exciting relationship.
But, a stressed brain and a depressive person are never going to enjoy that feeling and will not even make you feel that way too.
So, that's how it kills the joy and excitement making you feel perturbed.
These were the main ways that tell you how does anxiety affect relationships?
Nonetheless, these problems are not that big and have solutions too which we'll be telling you below.
But before that, if you are from Patna, Bihar then must take your partner for the best anxiety treatment in Patna by Dr. Vivek Pratap Singh.
Now, as we told you every problem has a solution so if you are a man thinking my wife's anxiety ruining marriage or women in the same way Musing my husbands anxiety ruining marriage. Then, keep reading the blog to know how to tackle your partner in these situations.
As you have already seen how anxiety ruins relationships? It's very necessary to know how to overcome those situations.
How to Stop Anxiety Ruining Relationship
Try to Understand Your Partner
Calm down before you do anything and think twice before saying something bad.
Don't make your partner feel that my partner makes my anxiety worse as they are already suffering from such depression, try n cooperate with them listen to them, and understand their feelings.
Build the Connection
Try to express what you feel for your partner, make them realize you love them and they should trust you.
That's how you are gonna build the trust again and they will rely on you, moreover,  it will also prosper your relationship.
We know it's very hard Being in a relationship with someone who has anxiety and depression, but it's not their fault too as they are already suffering from traumas.
Also, if you are a youngster thinking my girlfriend's anxiety is ruining our relationship, then talk to her and make her feel special.
Moreover, create a bond and make her believe that you love her the most, pamper her with little gifts, take her to different and quiet places.
Dr. Vivek Pratap Singh- The Best Psychiatrist in Patna
Talking to a psychiatrist about these personal issues will be very helpful for you.
Not only it's going to help you but also aid your partner getting ahead from the trap of anxiety.
So, for that no one is better than Dr. Vivek Pratap Singh who we know as the best Neuropsychiatrist in Patna.
Reasons to Consider Him:
He is young and enthusiastic
Treats his patients as a family
Cheap and affordable consultation charges
Worked in AIIMS Patna
Runs his organization Pratap's Neuro & Child Psychiatry Center
Final Thought
It's not a very big deal to overcome these situations by considering the ways recommended by us, you can thrive your relationship.
Moreover, also share this blog "how anxiety ruins relationships" to whoever needs it, if you find it useful.
At last, we would suggest you take care of yourself along with your partner and have a healthy, beautiful life.