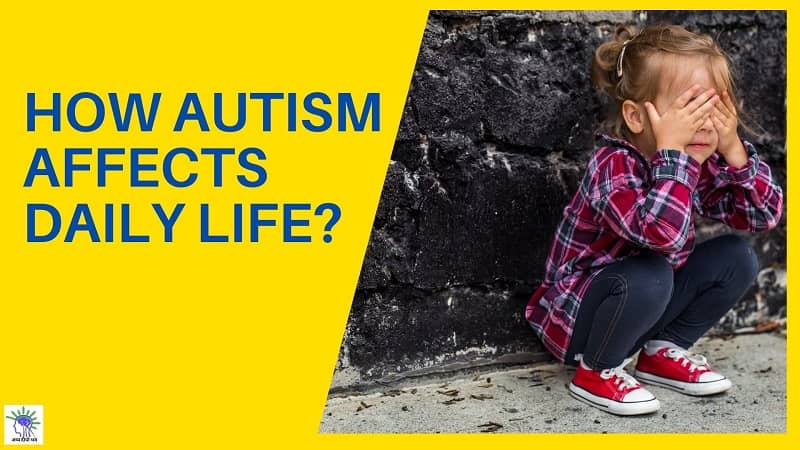 31 Mar

Life With Autism Spectrum Disorder – How Autism Affects Daily Life!

You may be living with an autistic person or having an autistic child, and searching for the question How Autism Affects Daily Life?

Likewise, Autism Spectrum Disorder is a very unembellished disorder, that might affect the person suffering from it and will also distress the life of other people related to them.

Comparatively, it's a severe syndrome that needs extra care and you need to know everything about it…

So, let's get ahead to have the proper apprehension about the disorder but, before moving ahead if you have an autistic child or anyone in your family suffering from ASD, also, if you are a resident of Patna consult Dr. Vivek Pratap Singh who runs his own Autism Treatment Center in Patna.

Okay, we'll talk about him later… Most significantly you must need to know about Autism… So, read below to recognize about it…
What Is Autism Spectrum Disorder & How Autism Affects Daily Life?
ASD (Autism) is a neurological behavior disorder that spearheads some serious stereotype behaviors.
Moreover, the person facing the problem of autism finds it difficult to interact and sticks to repetitive behavior.
Also, it's found that Autism mainly occurs in childhood and the children are the most affected by this disorder.
Different Types of Autism
Asperger's disorder
PDD-NOS
Childhood Disintegrative Syndrome
Now, accordingly, every disorder has some causes and symptoms so, do have Autism.
Let's move ahead to know what causes Autism Spectrum Disorder.
What Causes Autism- Reason Behind the Disorder
Nobody knows the exact cause of ASD and also research reveals that there is no single cause.
So, what causes the disorder… Have a look….
Causes of Autism
A family member having Autism
Birth of a child by older parents.
Some viral infections like medication etc.
Complication during pregnancy.
Note: As you know the disorder gets severe with time… so, if you are also struggling with your child's ASD take him/ her to Dr. Vivek Pratap Singh who is the Best Autism Doctor in Patna.
Now, knowing about the causes you must know the symptoms…
SO, have a look below to understand what are the general symptoms of Autism Spectrum Disorder.
Symptoms of Autism
The symptoms of the disorder are highly visible in early childhood; however, some symptoms may appear later too…
Some of the symptoms of ASD Are:
Irregular body posture
The problem in communication and interaction.
Avoidance of eye contact
Abnormal voice tone
Delay in the learning process
Now, we know Autism affects the daily life of a person. Let's briefly understand How Autism Affects Daily Life?
How Does Autism Affect Activities of Daily Living?
People with this disorder find it difficult to recall what to do regularly in order.
Hence, this has a Spartan effect on their living which include:
Irregular sleep
Not brushing regularly
Skipping meals
Brushing hair
Going to the toilet
Getting dresses popularly
We have seen that ASD most probably occurs in children but sometimes adults suffer from the same disorder.
So, let's understand how ASD affects the daily life of an adult…
How Autism Affects Daily Life Adults
In the case of children with ASD they are given extra care but what about the adults.
Comparatively, the family of the adult coping with the disorder suffers a lot as it is hard to look after them.
While a minority of the adults manage by themselves but the majority needs the support as they struggle in their day-to-day life with autism.
So, it's your responsibility to provide the therapies and give them a healthy life.
Moving ahead we always suppress the people or children suffering from Autism, that they will not be able to do anything in life.
But we are wrong here, as there are many famous people with autism all over the world who have proven the theory wrong.
Additionally, they have achieved many things in the field of philosophy, science, and also the film industry.
Now, moving ahead let's discuss one of the prominent psychiatrists of Patna Dr. Vivek Pratap
Dr. Vivek Pratap Singh- Why you Should Go for Him
Renowned as the chief Neuropsychiatrist in Patna Dr. Vivek Pratap is the proven best for the treatment of Autism in Patna.
Although, he has 9 years of practice in this field and has also treated many Autistic patients with faster recovery.
He has completed his M.B.B.S from BP. Koirala institute of health science and M.D (Psychiatry) from DY. Patil college Dehradun.
Moreover, he has also worked in the prestigious hospital AIIMS and now runs his clinic in Kankarbagh.
The Conclusion
We through this blog gave you all the understanding of How Autism Affects Daily Life?
We hope, you have realized how to treat your child or anybody in your family facing the issue.
Now, we sum up here… However, if you have any suggestion or query for us express in the comment section below.