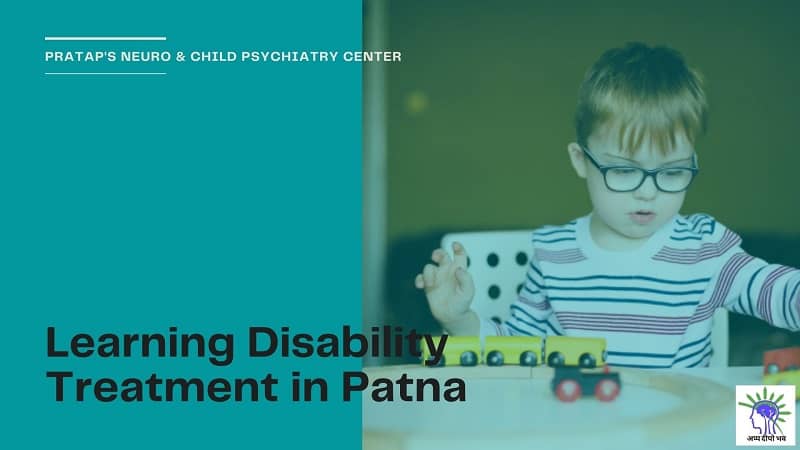 25 Jan

Dr. Vivek Pratap Singh: Best Doctor for Learning Disability Treatment in Patna

Looking for best learning disability treatment in Patna, Bihar?? Contact Dr. Vivek Pratap Singh… Being best neuropsychiatrist in Patna, he is the best for this mental illness treatment in Patna…!!

There are specific categories of people who have difficulty in learning new skills, new ways of adjustment or just some basic new ways. It can happen to people with average metal capacity. But, many children also suffer from learning disorder. They struggle with learning disability long before it is diagnosed, which demotivates their self esteem.

Thus, many treatments are available for the same i.e. learning disability treatment in Patna is also available. Moreover, learning disability is a disorder where the person could not access some new skills or the mind prevents them from learning things. It creates a gap between intelligence and age. Thus, it's very important to identify such kind of behavior at early stage to overcome problem in future.

Some of these skills may include math, reading, writing expression and non-verbal skills, etc. Nevertheless, for deeper details on the basic abilities, you can refer treatment for learning disabilities PDF or reports.

Therefore, without further ado, let's hear about what causes learning disability.
Causes of Learning Disability
If you ask about a specific reason behind the cause of learning disability, then it's not known yet. Moreover, with different research and analysis, some brief points on causes of learning disability are found. Some of them are-
Family history/genetics- a family history can be one of the causes of learning disability. The parents or generation of family line might have passed on the genes of this disorder.
Neonatal or prenatal risks- it happens due to poor growth in the uterus/womb. It can be due to premature growth, improper brain development, exposure of alcohol during pregnancy, etc.
Psychological traumas- a specific kind of abuse in the early childhood can lead to decrease in the learning capability of the person.
Thus, for this you can get excellent learning disability treatment in Patna by one and only Dr. Vivek Pratap Singh. He is one of the renowned neuropsychiatries' in Patna who deals with mental illness in children as well as adults.
Physical abuse- physical attacks on a person can risk the function of the nervous system in the body. The trauma and attacks can lead to physical trauma.
Environmental exposure- sometimes an environment which is exposed with toxins like lead can also causes a lot of damage to the brain. This can slow the working of the nervous system at good extent.
You can search for many presentations or reports like management of learning disability ppt to get an extra knowledge on the same.
These causes to lead to certain kind of symptoms that the person suffering can possess. Hence, let's move to out next topic of discussion i.e. learning disability symptoms.
Learning Disability Symptoms
The symptoms that can be seen in a person suffering from learning disability are as followed-
Difficulty in reading or writing expressions
Trouble in following instructions
Difficulty in understanding certain commands
Trouble in understanding the time or concept of time
Has lack of coordination and concentration in dong things
Difficulty in remembering place or person
Shows difficulty emotional actions or breakdown around the people
Thus, if these learning disability symptoms are seen in a person, immediate consultation with a good doctor is must. One of the recommendations is Dr. Vivek Pratap Singh, neuropsychiatrist in Patna, who provides good guidance on learning disability treatment in Patna.
How to Help a Child with Learning Disability? [Learning Disability Treatment in Patna]
It's a wrong idea when people think that learning disability can only be caused in children. Many adults too face with mental retardation. Before any treatment, diagnosis is very important. Therefore, one must go through learning disabilities test as suggested by the individual doctor.
Moreover, when the question is about 'How to help a child with learning disability', the support of parents and may be a general counselor is very important. Parents should try communicating with the child. Above all, creating a happy and calm environment around the house for the child is very important.
Children learn from thing what they see. Same thing happens with their mental health. The toxic surrounding can equally affect the metal health.You can look into some of treatment of learning disability ppt for more references son the same.
But, how can an adult are treated?  For treatment of learning disabilities behaviour guidance method one can opt for following options like-
Extra help from counselor or specialists
Extra therapies for vocal and writing expressions
Medications
Some OCD treatments
Above all, if anyone is opting for ocd treatment, then best kind of OCD Treatment in Patna is provided by Dr. Vivek Pratap Singh. He provides best kind of learning disability treatment in Patna.
He has 8 years of experience in the line of neuropsychiatry and presently practices in his chamber in Patna. Moreover, his main aim to overcome mental illness in children and adult through counseling and medications.
Above all, he aims at strengthening mental health and builds up resilience of the person.
Therefore, if you want a good learning disability treatment in Patna, then visit Dr. Vivek Pratap Singh, best doctor for learning disability treatment in Patna, Bihar.