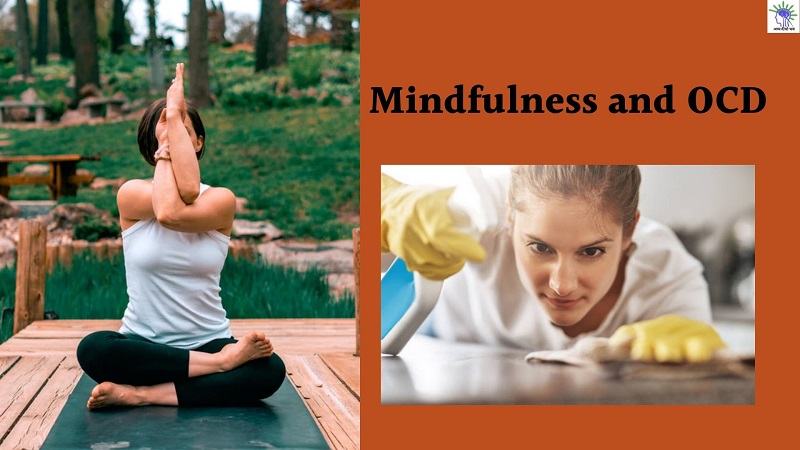 14 Jun

Want to Know About Your Concern Relating Mindfulness and OCD? Check here!!

Mindfulness is a simple word to understand. It implies that your mind is completely focused on what's going on, what you're doing, and the environment you're in. That may seem insignificant, except for the fact that we frequently stray from the topic at hand. Our minds take off, we lose contact with our bodies, and we find ourselves immersed in obsessive ideas about something.

But, there are many types of research that show that there is a close relation between mindfulness and OCD. But, how? Therefore, this blog provides you the knowledge for the same and useful tips to help with your mindfulness and OCD.

However, let's hear about some of the symptoms of OCD and how mindfulness can help in this way.
Symptoms of OCD
Some of these symptoms include:
Anxiety over germs or dirt
The anxiety of injuring yourself or others
extreme doubt or fear of making a mistake
Embarrassment fear
Fear of wicked or unfriendly thoughts, such as distorted sex or religious beliefs
However, for everything, there is a proper solution to it. Mindfulness meditation had a "strong and considerable effect" on OCD symptoms, specifically thought-action fusion and the ability to "let go" of unwelcome thoughts, according to the researchers.
So, to prove a relation between your mindfulness and OCD, you can also take different tests on mindfulness for OCD worksheets. You can even get guided to proceed further with the help of reading articles like everyday mindfulness for OCD pdf.
However, you can also get guidance from any doctor of your personal preference. However, if you are a resident of Patna, then you should definitely visit Dr. Vivek Pratap Singh, who provided the best kind of OCD doctor in Patna.
Exercises for OCD
The following are three examples of activities that are simple, affordable, and potentially more successful than typical OCD therapies.
Exercise 
Physical activity has been acclaimed as the best medicine on the planet by some of the world's foremost scientists. One thing is certain: the productive movement of our bodies can and will influence neurotransmitter production and metabolism.
Meditation/Relaxation 
Mindful meditation, breathing exercises, progressive relaxation, guided imagery, biofeedback, and a variety of other relaxation techniques enable people to divert their attention away from problematic ideas and actions and toward more productive ones.
Metronome
Training the brain's inherent timing processes through recurrent body motions in sync with auditory cues is a bit more high-tech.
There is hope for those who are enslaved by OCD, thanks to advances in brain systems that govern impulse control and chemical interactions in these systems. On deep details on the exercises to perform, you should take help from a reputed and experienced doctor like Dr. Vivek Pratap Singh, an astounding Neuropsychiatrist in Patna.
OCD Mindfulness tips
As mentioned above, mindfulness can help in getting your OCD stable. So, obviously, there must be some facts that can link mindfulness and OCD to stabilize the OCD symptoms.
Mindfulness meditation provides a space in our life where we can suspend judgment and explore our natural curiosity in the mind's workings, treating ourselves and others with love and kindness. However, some of the OCD mindfulness tips to keep in mind are as follows:
Mindfulness is not a mysterious or foreign concept.
We don't do mindfulness as an afterthought.
You do not need to alter.
It's something that everybody can do.
Mindfulness has the potential to be a societal phenomenon with far-reaching implications.
It's a way of life sustainability.
It's backed up by research.
It encourages creativity.
Another useful way to stabilize OCD is through general meditation steps. So, here let's go to learn some tips on overcoming OCD with meditation.
Overcoming OCD with Meditation
Meditation, by its very nature, is the act of digging down into the depths of your mind, session by session – the ancient technique allows you to access your subconscious mind power when you're awake. Meditation, with its easy access to your subconscious mind, swiftly resurfaces any ruts formed by your repetitive thoughts, with OCD being the first tread to fill in.
Aside from overcoming OCD, acquiring mind mastery with meditation has a slew of other advantages: creativity, success, fantastic sleep, less anxiety, less depression, greater general health, and so on.
Moreover, you can use the OCD meditation app to keep track of your meditation routines, your graphical presentations on behavioral and obsessive thoughts.
Dr. Vivek Pratap Singh: Best Neuropsychiatrist in Patna to Treat Mindfulness and OCD
Therefore, if you are looking for someone who can help you in your difficult time and provided you with excellent OCD treatment in Patna, then you should visit Dr. Vivek Pratap Singh.
Furthermore, he is a very young and dedicated doctor who provides the best mental health treatments. He earned his MBBS from a WHO-recognized college and his MD(Psychiatry) from the University of Pune. He has also worked at AIIMS Patna and is currently employed as a Senior Psychiatrist at PMCH Hospital in Patna.
Therefore, if you are a person who needs help concerning mindfulness and OCD, do visit Dr. Pratap, the best OCD treatment doctor in Patna.