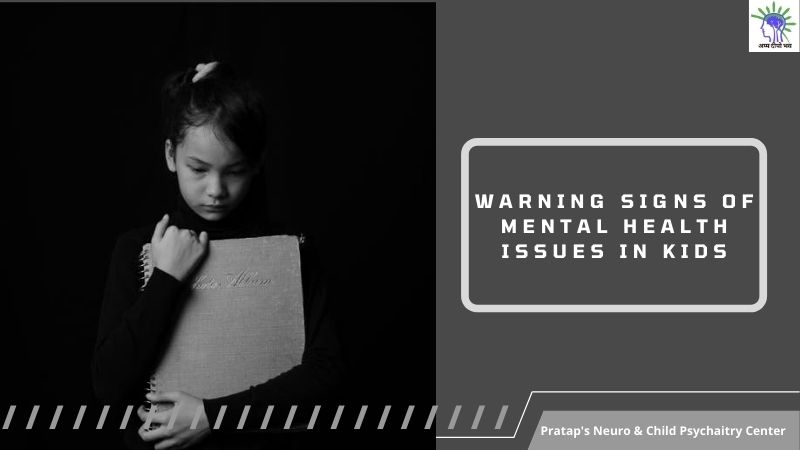 05 Jul

Warning Signs of Mental Health Issues in Kids

Mental health is the long-range wellness of the mind about what you think how you express your feeling and behave in front of others or alone. Far from that, it's really effortful to find about the mental health issue of the child, thus it can forge a lot of dilemmas for a child & they may not get the treatment they need.If you too are tormented to sight out the mental state of your child, read the blog, to understand the warning signs of mental health issues in kids & how to help them when they are in compulsion.
Warning Signs of Mental Health Issues in Kids
Being a parent, if you also come across questions like my child is having a mental breakdown, then you need to have a look at the core signs and symptoms of the mental contentions of your child.
The activities of the mentally ill children create a baffle due to their activities as it's hard to judge their mental status due to their activities because it's common for a child to carry out those activities.
So, here we have provided the symptoms you can see in a child with a mental disorder.
But before heading to that, we want to tell you about Dr. Vivek Pratap Singh, who is the well-established Child Psychiatrist in Patna providing convenient treatments to toddlers.
5 Basic Signs of Mental Illness in Children
Trying to hurt oneself and others
Being sad for a long time over nothing
Difficulty in concentration
Change in some regular habits, like eating, studying, or playing
Radical changes in mood.
Regarding the fact, you want to know the mental health status of your child for sure; here is one of the best methods to analyze the mental stability of your child.
Child Mental Illness Symptom Checker
Before going to any psychiatrist, if you want to get an affirmation regarding your child's health, then you can get through some online mental illness checker.
Withal, you have to go through some terms & conditions, then answer some simple question on the forum, there you are ready to go, that means, you might get the answer related to your child's mental health.
Types of Childhood Disorders
There is not only one stigma allied with mental illness, however, it's also difficult to address the symptoms & the kind of disorders.
The problems associated with this illness disrupt the activities as well as the physical well-being of a child.
Here we have routed some common disorders through which a child may suffer.
Child Mental Disorders Lists Are:
Anxiety Disorder
Attention Deficit Hyperactivity Disorder
Autism Spectrum Disorder
Schizophrenia
Eating Disorder
Note: If you are a person situated in North, Bihar, then we would strongly recommend Dr. Vivek Pratap Singh who is the no. 1 Neuropsychiatrist in Patna furnishing all types of special treatments to the child.
Furthermore, getting acknowledged about the warning signs of mental health issues in kids, it's better to discern the risk factors related to the childhood psychiatric disorders PPT, & how you could be a helping hand for your child in these conditions.
Risk Factors for Mental Illness in Childhood and Adolescence
The risk factors associated with the mental health issue of the child generally depends upon the factors like:
Stress
Trauma
Genetics
Substance abuse
Dr. Vivek Pratap Singh –The Primo Child Psychiatrist in Patna
Being the chief Psychiatrist in Patna Dr. Vivek Pratap Singh provides treatments for all mental health issues & has the ability to read the mind of his patients.
Moreover, he has been in this field for more than 10 years, and we can say that he is a well-experienced psychiatrist with innumerable knowledge.
He is currently employed as a neuropsychiatrist in PMCH, Patna & also runs his own organization Pratap's Neuro & Child Psychiatry Center where he provides the best of treatments to his patients.
The Conclusion
The most crucial thing you have to do for your child is getting them treated with a good psychiatrist.
Far from that, the more you wait, the more they will go in the worst scenario.
So, after reading the blog, you must have got through warning signs of mental health issues in kids & being a parent how you have to deal with them.
Leave your further queries in the comment section below, if you have any.