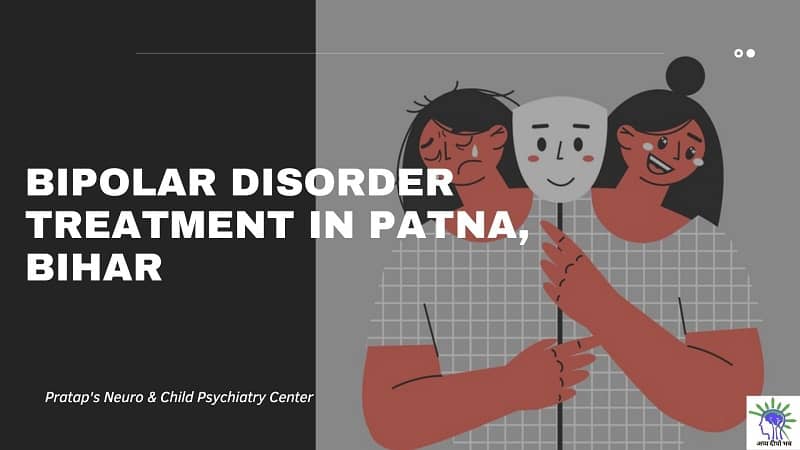 07 Jan

Dr. Vivek Pratap Singh – Best Doctor for Bipolar Disorder Treatment in Patna

If you are looking for Bipolar Disorder Treatment this blog is aptly for you.

Bipolar Disorder is a chronic condition characterized by unpredictable course of ups and downs. The repetitive depressive and manic episodes in Bipolar Disorder intervene with normal daily activities and needs a critical care and supervision.
Bipolar Disorder Causes
Talking of the Bipolar Disorder Causes, the exact cause is still unknown but the factors that are listed as the primary reason for Bipolar Disorder are as follows:
Biological Differences that mean some physical changes in the brain
Bipolar Disorder is common with the people whose first-degree relative suffer the same.
To add more, bipolar Disorder distinguishes itself with the symptoms associated with it.
Bipolar Disorder Symptoms
However, Bipolar Disorder Symptoms vary from person to person in accordance with the age group, extent of the disorder, and the time period from which the patient is suffering. Some of the common Bipolar Disorder Symptoms are as follows:
Mania and hypomania which includes:

Racing thoughts, increased activity, energy or agitation
Euphoria
Decreased need for sleep
Unusual talkativeness
Distractibility, and Poor decision-making

Depressive episodes
Fatigue or loss of energy
Insomnia, restlessness, and decreased ability to think and concentrate.
If you are experiencing any of these symptoms you must not worry as there are various treatment Options available. If you suspect that you are suffering with Bipolar Disorder in Patna or somewhere in North India you should consult Neuropsychiatrist in Patna for Bipolar Disorder Treatment in Patna.
Bipolar Disorder Treatment Options
Bipolar Disorder Treatment Options are available to treat the disorder. However, diagnosis depends upon a number of factors. The treatment options available for Bipolar Disorder are:
Bipolar Disorder Medications such as mood stabilizers, antipsychotics, and antidepressants.
Psychotherapy like Electroconvulsive therapy (ECT)
Non-pharmocological treatments such as VNS, TMS, and light therapy
Bipolar Disorder Cognitive Behavioral Therapy
Most importantly, home environment, and liveliness.
However, a single option can't cure the Bipolar Disorder. It has to be a combination of efforts including medications, psychotherapy, and other supervisory procedures
Most Effective Treatment for Bipolar Disorder
The most effective treatment is a combination of medication and psychotherapy. Research has shown that antidepressants and many medications are not reliably safe and therapeutic in case of Bipolar Disorder.
Therefore, a particular methodology has to be followed while treating bipolar disorder treatment which include physical exam, psychiatric assessment, mood charting, and criteria.
Further, the doctors proceed with day treatment programs, regular check ups and analysis, psychotherapy along with the medications.
Treatment Without Medication
Certain lifestyle changes can help with Bipolar Disorder Treatment without medication which are as follows:
Firstly, get enough sleep and have good sleep hygiene. If you feel that you are not able to sleep or suffering with insomnia then you might need Insomnia Treatment in Patna.
Secondly, a well-balanced diet is must
Moderate and regular exercise can help to balance mood
Avoid alcohol and other substances.
These lifestyle changes would ensure a healthy and jolly liveliness which would help you to curb depressive episodes and all other symptoms associated with the Bipolar Disorder.
If you feel that you are suffering with Bipolar Disorder and seek Bipolar Disorder Treatment in Patna then you must refer to Dr Vivek Pratap Singh is the best neuropsychiatrist in Patna. Dr Vivek Pratap Singh is a board-certified psychiatrist with M.D. in Psychiatry from D Y Patil medical college in 2018. Further, he holds an experience of 8 years which includes the position of ex-resident at AIIMS Patna.
Currently, he practises at PMCH psychiatry department and at his clinic in Kankarbagh. He deals with all types of sleep disorder, neuropsychiatry, child and adolescent psychiatry illnesses along with Day care deaddiction.
So, if you are searching for Bipolar Disorder Treatment Near Me, Bipolar Disorder Treatment in Patna; then you must go and consult Dr. Vivek Pratap Singh without a further ado.
People are also reading: Psychiatrist in Patna Kankarbagh